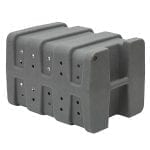 Dakota 283 T1 Kennel

$509.00
Free Shipping

Proudly Made in the USA
Description
The Dakota 283 T1 Kennel has a lower profile than our standard kennels and is designed to easily fit in the back of a pick up under a Tonneau cover.
This Kennel is the significantly lighter than original KNBK model and features a rear handle for easy lifting. It is molded in one solid piece and available in 2 colors.
Enjoy FREE SHIPPING on your order!  No code necessary.  (Shipping to Continental US only.)
Molded and assembled in the USA.
Kennel Features:
Small/Medium Size
Compatible with most Tonneau Covers
Rear Positioned Easy-Grip Handle
Keyed Paddle Latching Door
Large Side Ventilation Holes
Easy-to-Clean Drain Hole
Dakota 283 T1 Kennel Colors & Sizing
Colors: Dark Granite and Coyote Tan
Medium: Size: 30L x 21.5W x 20H / Weights: 25 lbs
Part Number  D2-T1KNL-[COL]
Limitations and Warnings
Dakota 283 continues to make high quality innovative products that are used to contain and protect your dog. To that end we have been able to serve a vast majority of the dog population with our products. With that said, our framed door products can not contain ALL dogs. We expect that there are some breeds and or pets that are beyond containment with our products. While we have had great success in containing aggressive dogs we are not claiming that we can contain every dog. A good example would be a very aggressive Belgian Malinois.
The owner knows his dog intimately and should be the person that makes the final determination in regard to application of any product used with his or her own pet.
We are working on additional products that will give a higher degree of containment for breeds like the Belgian Malinois and expect to have these products to the market by 2019. If you have any questions in regard to these products or if the FRM door is right for your dog please reach out to us and we can help you through the decision process.
Residents of California-Proposition 65 Warning