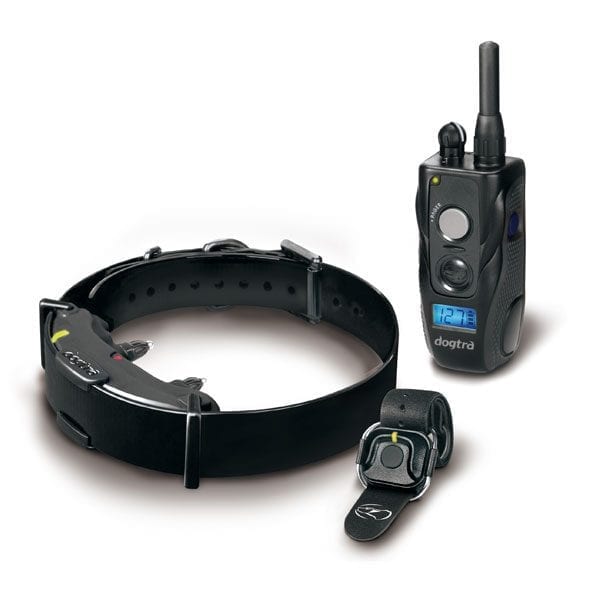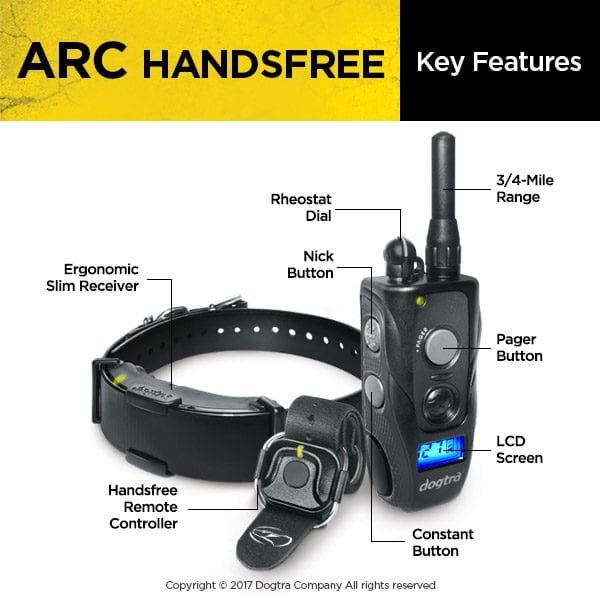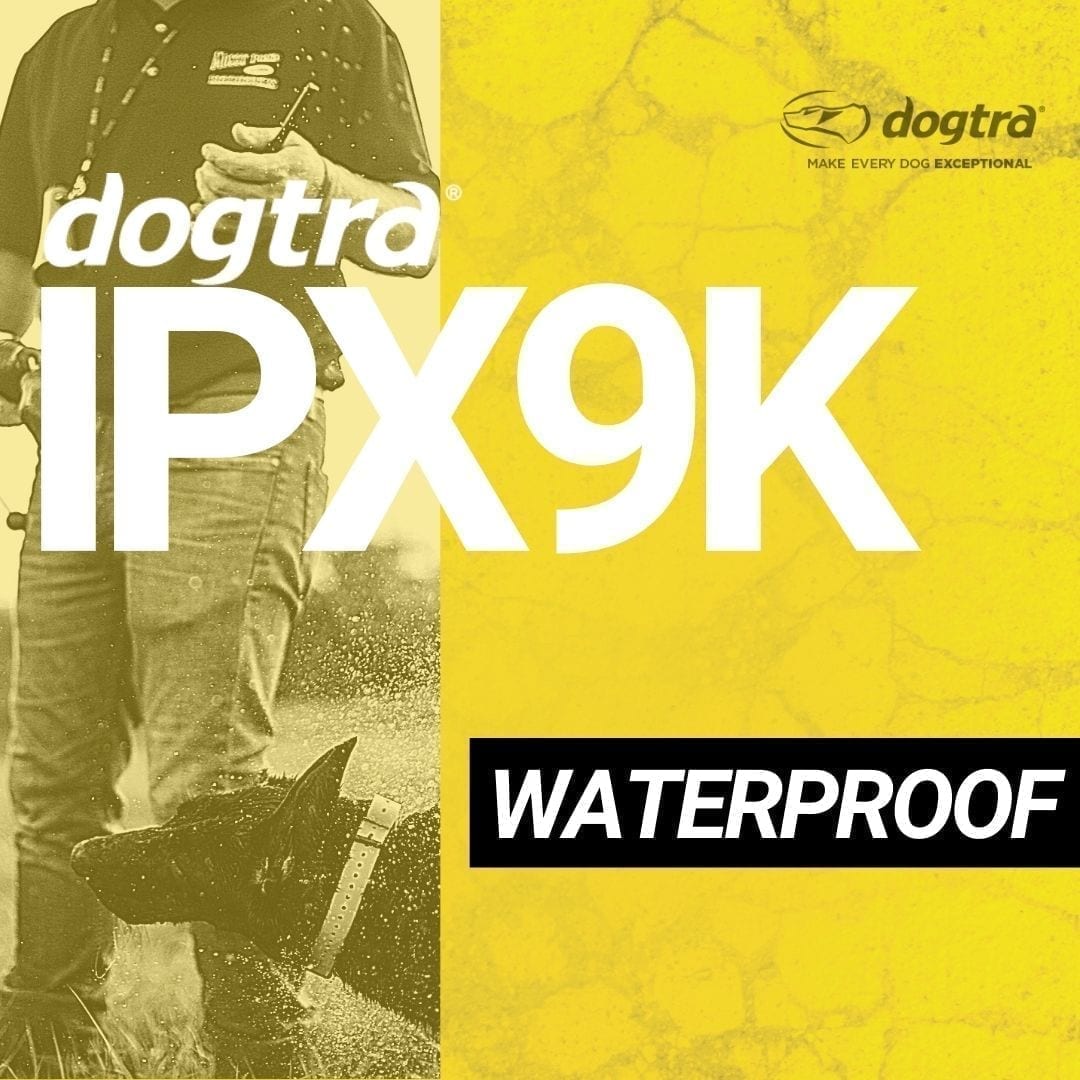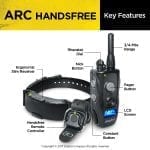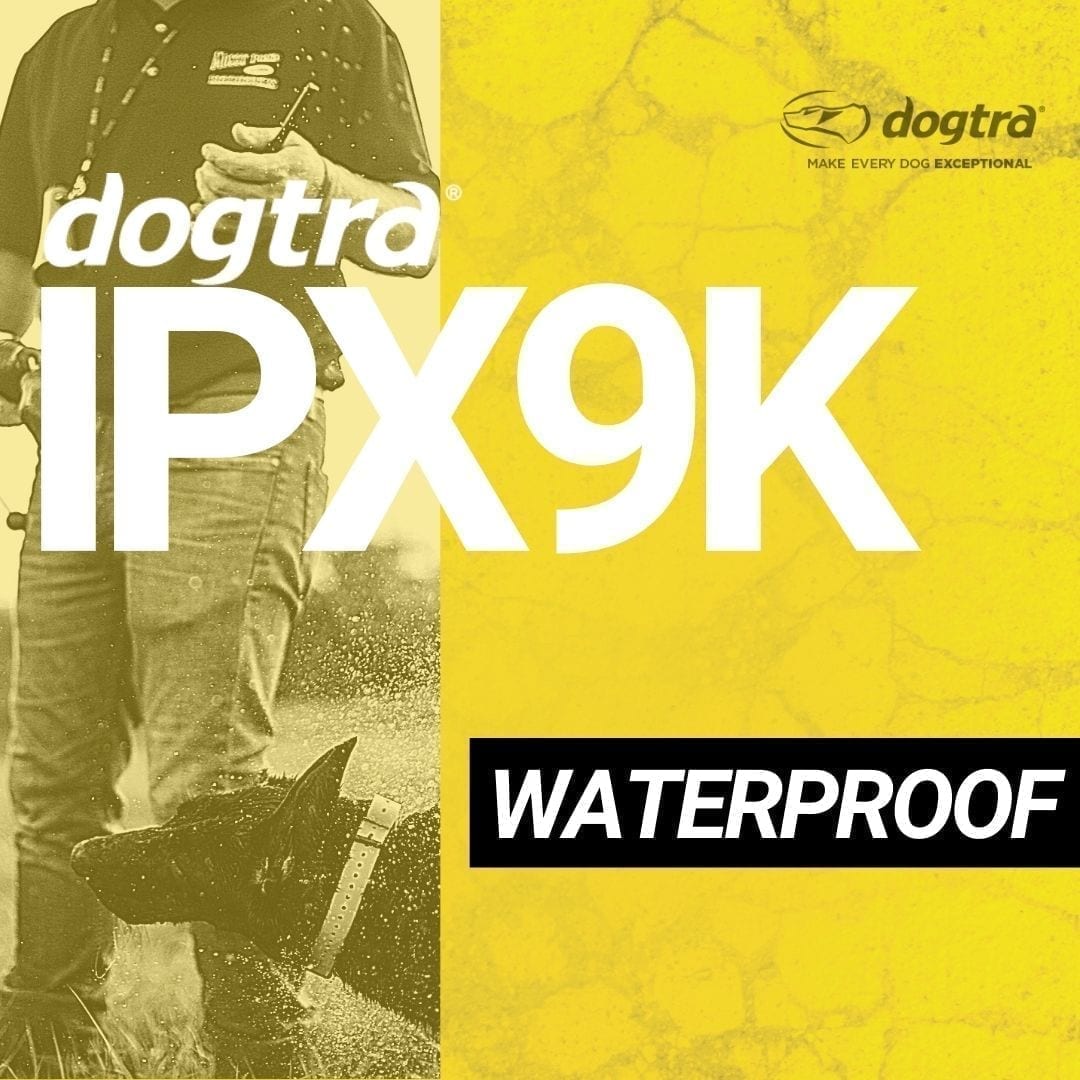 Dogtra ARC Handsfree System 3/4 Mile Range
Earn $7.50 in Front Range Cash
$249.99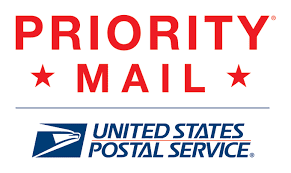 Free USPS Priority Mail Shipping
Description
Features
In The Box
Owner's Manual
Description
The Dogtra ARC Handsfree System is a 3/4-mile range e-collar designed for all breeds with medium to mild temperaments.  The ARC Handsfree comes with a slim receiver/collar, ergonomically designed to the dog's neck, and a compact Handsfree Remote Controller for the transmitter. The Handsfree Remote Controller gives you the freedom to multitask and have discrete control during field operation, making it perfect for hunting dogs and police K9 professionals. The Dogtra ARC Handsfree System is a 1 dog model.
Handsfree Operation
The Handsfree uses the handheld transmitter as a long distance repeater. Using the handheld transmitter as a repeater requires the Handsfree to be within a range of 5 meters of the transmitter. The Handsfree assigns a unique code to the transmitter, ensuring that there are no interferences with other devices or transmitters. Press the Handsfree button when you want to operate the handheld transmitter. The Handsfree does not have an On/Off button. The Handsfree has been tested and can be used in extreme conditions, between -20 to +60 degrees.
How to Find the Right Stimulation
The ARC Handsfree unit comes with the rheostat dial on the transmitter. The rheostat intensity dial controls the stimulation level, with level 0 being the lowest level and level 127 being the highest. The level of stimulation best suited for your dog depends on your dog's temperament and threshold for stimulation. Always start at the lowest level and work your way up. The appropriate level can be found when the dog responds to the stimulation with a mild reaction, such as a tensing of the neck muscles. The stimulation level may vary depending on the training situation. When highly distracted, dogs will require a higher level of stimulation.
Changing the Handsfree Stimulation Mode
The default setting for the Handsfree button is the Constant stimulation. To change the setting to the Pager or Nick stimulation (or back to Constant stimulation) proceed with the following steps:
Begin with the transmitter turned off.
On the handheld transmitter hold down the power button and the desired function button (Nick or Pager) at same time until the LED Indicator blinks rapidly. To set the Handsfree back to Constant, hold down only the power button until the LED Indicator blinks rapidly.
Hold down the Handsfree button for 2 seconds to complete the process.
To learn more about the Dogtra ARC Handsfree System read the User's Manual.
Consider the Dogtra ARC System with additional ARC collar for a multi dog system.
Model: ARC-HF
Manufactured by: Dogtra
1 Dog Models (not expandable)
3/4-Mile Range
Rheostat/Volume Dial with Stimulation Levels 0-127
2-Hour Rapid Charge Batteries
Nick, Constant, and Non-Stimulating Pager Vibration
Low to Medium Power Stimulation
Belt Clip
Slim Design Receiver/Collar
Fully Waterproof
Checkered Grips
LCD Screen
For Dogs as Small as 15 lbs.
2-Year Limited Lifetime Warranty
Transmitter
Receiver
Handsfree Remote Controller
Battery Charger and Splitter Cable
Test Light
Owner's Manual