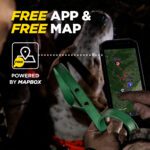 Dogtra Pathfinder 2 System
Earn $5.00 in Front Range Cash
$429.99
New Pathfinder 2 App Features:
New FREE Pathfinder 2 App with updated user interface
 New Smart Watch compatibility:

Now available on Samsung Galaxy Watch4 Series
Apple Watch Series 5 and above

Free maps powered by MapBox
New Fence Modes: Mobile-Fence, Geo-Fence and NEW E-Fence
3.5 Hour Rapid Charge Battery
Description
The Dogtra Pathfinder 2 GPS Dog Tracking and Training System allows you to explore more outdoor activities with your dogs from hiking to hunting. The new Dogtra Pathfinder 2 is a complete GPS tracking and training system featuring a newly redesigned FREE real time tracking and training app, tracking up to 21 dogs within a 9-mile range.* The new Pathfinder 2 system features the latest in dog tracking collars equipped with E-Collar training functions now including a LED Locate Light and Pager Vibration. The new GPS Connector is designed with a new E-Collar Function button for quicker response.
The Pathfinder 2 works with a FREE app based dog tracking system with no monthly subscription required, allowing users to track and train their dogs straight from their phone featuring offline maps access with no signal required. The Dogtra Pathfinder 2 App requires the Dogtra Pathfinder 2 system to operate. *Range may vary depending on the surroundings.
Pathfinder 2 App Phone Requirements: iOS 12.1 or Android 6.0 and above and devices must include Bluetooth 5.0 and up.
Compatibility: Pathfinder 2 System & App is only compatible with the Pathfinder 2 Series Systems
Features:
12″+ Neck Size
9-Mile Range
Mark your truck location!
Rheostat/Volume Dial with Stimulation Levels 0-100
Nick and Constant Stimulation
Non-Stimulating Pager Vibration
Audible Tone
Fully Waterproof Receiver
Expandable to 21 Dogs and Hunters
2-Second Update Rate
Geo-fence Option
Offline Maps
Precise and Up-to-date Maps
Tracking Only Mode
For Dogs as Small as 35 lbs.
1″ Wide Universal E-Collar Strap
Training Videos:
E-Fence Setup
Basic Setup
Unboxing
New Pathfinder 2 System Features:
New GPS Connector with E-Collar Function Button
New GPS Receiver with Pager Vibration & LED Locate Light
New Receiver Lock Mode
New GPS Connector Locate Tone
New E-Collar Functions: Pager Vibration & LED Locate Light
New USB 5V Charger
In The Box:
Waterproof GPS "Connector"
Waterproof receiver
Battery charger
Splitter cable – Charge Handheld Transmitter and Collar Receiver at the same time
Test light
Metal belt clip with screws
Probe extenders
Non-stimulating probe covers
Probe wrench
Hardshell case
Holster
Lanyard