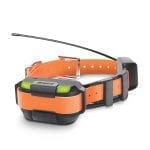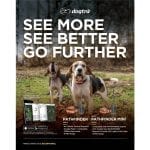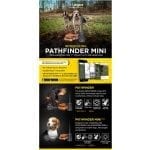 Dogtra Pathfinder Mini System 4 Mile Range
Earn $12.00 in Front Range Cash
$399.99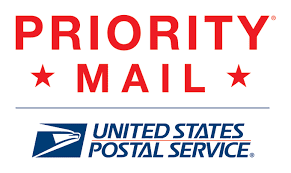 Free USPS Priority Mail Shipping
PATHFINDER app is now compatible with Apple Watch!
Description
The Dogtra Pathfinder Mini System is 22% Smaller than the original Pathfinder.
The Smarter way to Map, Track and Train – the Dogtra Pathfinder brings GPS and e-collar technology right to your smartphone, giving you a more intelligent and responsive way to track and train your dogs.
Like all PATHFINDER products, the Dogtra PATHFINDER MINI connects via satellite to the PATHFINDER GPS Connector with a market leading 2-second update rate.  The GPS Connector is paired with your smartphone via Bluetooth (does not require cellular data) to relay the dog's and user's location, promising the most accurate, to-the-minute location tracking in its field.
The Dogtra PATHFINDER MINI uses Google Maps™ along with an Offline Maps mode and is available to use without data, perfect for rural areas with no or poor cellular signal.  Created to be 22% smaller than the original PATHFINDER GPS collars, beagle and other small-breed dog owners can expect the same accurate and high-response tracking abilities while in the field, but now in a compact version.
Equipped with a 4-mile range, handlers can feel confident ensuring their dog's travels will always be tracked using the multiple map views. The Dogtra PATHFINDER MINI features a ¾" strap width which is designed to be more proportional to beagles and small-breed dogs, allowing them to work harder without distraction from the added bulk of traditional e-collars.
Along with the advanced e-collar functions including Nick/Constant stimulation, an Audible Tone and Bark Indicator, the PATHFINDER MINI also comes with new Beacon & Locate LED Light which allows dogs to be easily seen in the dark.  Additionally, the e-collar training function can be disabled per user preference.
Track up to 21 dogs or hunters, share locations, playback data, and create customizable Geo-Fence alerts.
No cellular data is required (other than to initially download the app – no data is needed after the app is downloaded).  Just download the free maps and operate your smartphone in offline map mode.  Unlike other GPS e-collars, there are no extra navigation packages to purchase. You have access to Google Maps with satellite and terrain views.
Designed to meet Dogtra's legendary standard for quality, the Pathfinder is for serious dog trainers and owners who demand the most in working, hunting, and competition dogs.
Dogtra Pathfinder Mini Features
PATHFINDER app is now compatible with Apple Watch!
Smartphone GPS Tracking and Training (no cellular data required)
Full e-collar functions, including Nick and Contstant stimulation
Audible Tone
Detailed satellite and terrain views by Google Maps
Offline map mode
Two-second update rate for greater tracking accuracy
Map zoom capability for superior tracking detail
Compass mode
Tracking only mode with verifiable data and secure contact point covers
Geo-Fence and alert options let you customize boundaries and receive notifications
Easy location sharing for dogs and owners
Expandable to 21 additional GPS collars and/or Pathfinder users (purchase of additional collars required)
History playback on your smartphone and computer
4-mile line-of-sight range to cover your most active runner
Fully waterproof for use in all environments
Long-lasting, rapid-charge lithium polymer batteries
Custom alerts for dog actions using pop-ups, sound, and vibration
Rheostat volume with stimulation levels 1-100
Dog unit is 22% smaller than the original Pathfinder collar
LED Beacon & Locate lights allow you to see your dog in the dark
Model: PathMini
Manufactured by: Dogtra
See the 3/4″ Universal Replacement Strap for additional strap colors for the Dogtra Pathfinder Mini.