Dogtra RR Deluxe Transmitter and Receiver
Earn $2.70 in Front Range Cash
$269.99
Description
Features
In The Box
Owner's Manual
Description
The Dogtra RR Deluxe remote release features the most advanced technology to help sharpen your dog's skills for upland hunting, retriever work, or for competitions. The Dogtra RR Deluxe is designed to operate the Dogtra PL and QL Launchers for upland training, but it is also compatible with most after-market bird/bumper launcher systems on the market today.
The robust 1-mile range assures activation at the most demanding ranges. Our realistic duck call attention getter makes the RR Deluxe the release of choice for serious retriever trainers looking to enhance their dogs marking ability for the hunting season or for Hunt Test or Field Trial competitions. The unit also has a beeper horn for identifying the location when being used for upland work with our PL or QL Launchers. The RR Deluxe is user expandable with an easy coding system that can be done in the field and can operate up to 16 launchers with our two port system.
Overview
Dogtra remote release bird launcher system is an effective tool to train your dogs to hold a point or stop to flush. With a remote release bird launcher system you can train your dogs by yourself. Dogtra remote release bird launcher system uses a transmitter and a receiver to release the launcher from a remote location. Sound functions on the receiver can be used to train a dog or to find a launcher in heavy cover. Dogtra remote release bird launcher System allows you to release up to 16 launchers by using left and right jack buttons and turning the transmitter selector dial to the number that corresponds with the bird launcher. Each setting will operate two launchers.
Main Features
Multilple releasers: up to 16 launchers controlled from one transmitter

Multiple sound modes: a receiver emits a duck call and beep sound

Range: effective within one mile

Scenting: launcher box and bird cradle are designed for maximum air flow

Quiet launch: prevents dogs from being startled by a loud release noise

Waterproof: a handheld transmitter is fully waterproof (receiver is water resistant)

Multi colored LED: 3 types of LED colors show the remaining battery life
The Dogtra RR Deluxe System is designed to be paired with either the Dogtra Quail Launcher or Dogtra Pheasant Launcher.
Learn more about the Dogtra RR Deluxe Transmitter and Receiver product features in the Owner's Manual.
How to add a Dogtra Launcher Receiver to a Dogtra Hand Held Launcher Transmitter: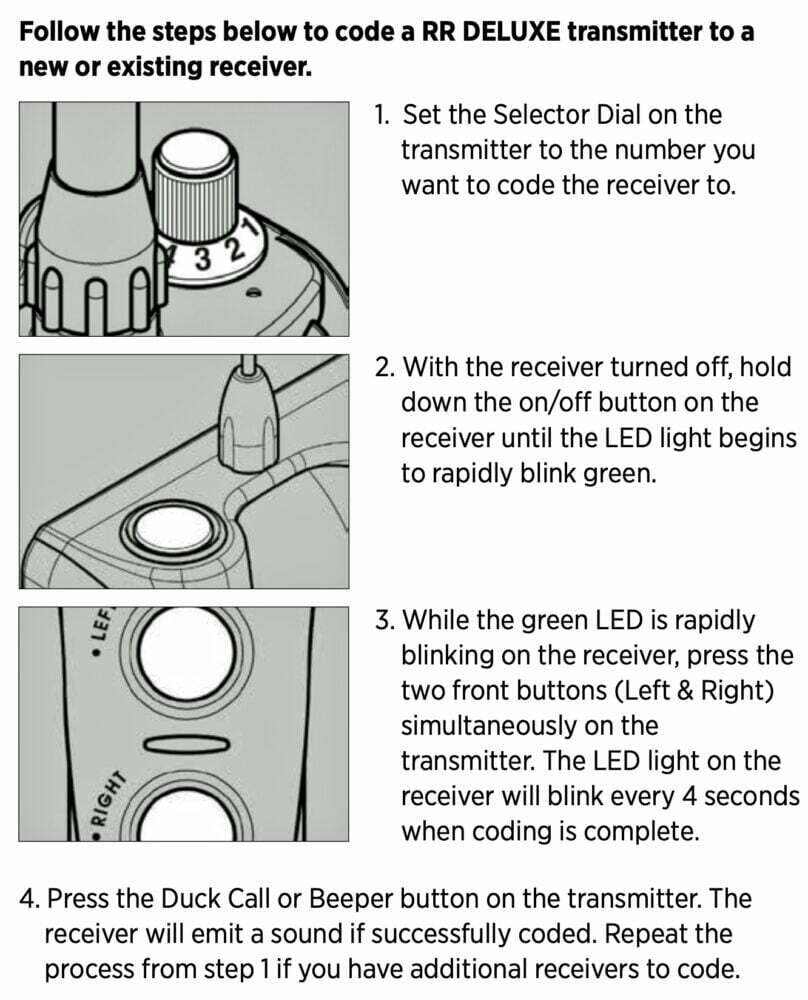 1-Mile Range
Rechargeable Ni-MH Batteries
Beep and Duck Call
Control Up to 16 Launchers
EZ Coding for Extra Receivers
2 Port System Receiver
1-Year Warranty
Transmitter
Receiver
Battery Charger and Cables
Owner's Manual