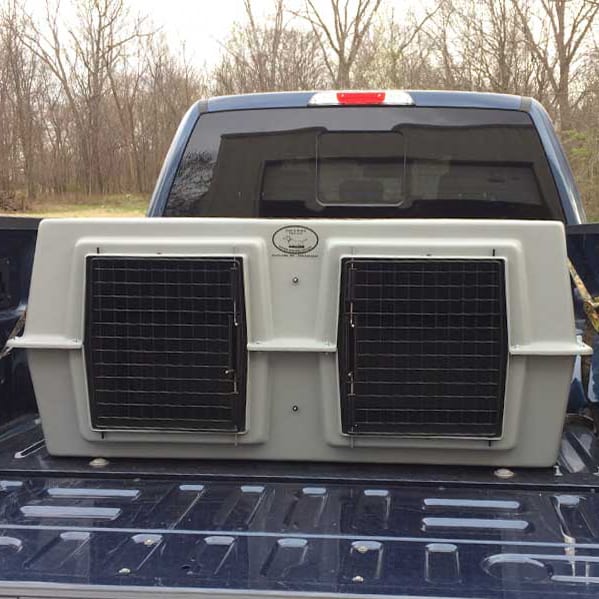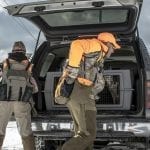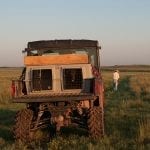 Easy Loader Kennel
Earn $6.96 in Front Range Cash
$348.00
Free Shipping! 

Proudly Made in the USA
Description
The Easy Loader Kennel is the original Dog Kennel manufactured by Custom Molding Services, Inc. The Easy Loader fits all standard size pickups and large SUVs. It is made of high density polyethylene which is virtually indestructible. It has Ultra Violet Stabilizer added to the polyethylene so the Dog Kennel will last for years and years without breaking down or cracking. The Doors are made of Powder Coated steel wire for long life. We offer a one year warranty on material and workmanship. Our price includes shipping to any of the contiguous 48 states.
Easy Loader Kennel Features:
Lightweight approximately 33 lbs
Doors are made of powder coated steel wire for long life
Welded wire doors
Spring loaded latches
Ultra violet stabilizer added to the high density polyethylene
Durable maintenance free construction
Fits between wheel wells of most full sized pick ups
Halves nest for convenient storage
Fits in ATV beds
Stackable kennels
49 inches wide, 28 inches deep, 21 inches high
Easy Loader Kennel Sizing Information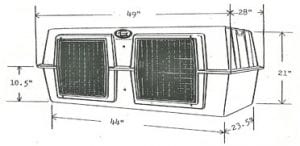 The Deuce Kennel for Comparison
42″ wide, 30 ¾" deep, 21″ high
Warranty
One (1) year, from date of purchase, manufacture warranty free from defects on material, parts and workmanship. For warranty questions please call 720-557-6075.
Warranty is only valid if the kennel is purchased from an authorized Easy Loader Kennel dealer.
All warranty claims must be accompanied by proof of purchase.
Front Range Gun Dog is an authorized Easy Loader Kennel dealer.
Warranty excludes the following:
Any damage caused by you or your pets to the kennel, the gates, vents, covers or any other covered items, this includes chewing, scratching and gnawing.
Damage to the kennel caused by vehicles accidents, weather related accidents, hunting accidents or any accident outside of Custom Molding Services, Inc. control.
Normal wear, tear and abuse.
Use of harsh chemicals, extreme heat or other substances known to be damaging to the materials of the kennel.
Any customer made modifications, changes or alterations to the original manufacture specifications of the kennel or components.
Shipping charges on warranty claims will be paid for by Custom Molding Services, Inc. for repair or replacement of parts at the discretion of Custom Molding Services, Inc.