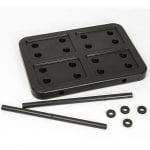 Forever Insert Divider
Earn $1.00 in Front Range Cash
$119.00
Free Shipping

Proudly Made in the USA
Description
The Forever Insert Divider is a convenient kennel divider for our medium size G3 kennel. This is ideal for puppies making the full size kennel smaller with the ability to adjust as the pup grows into the kennel.
Features:
Kennel Divider with Vent Holes
Multiple Positions using Kennel Vent Holes
Molded Plastic with Full Length Nylon Support Rods
Easy to Install Rod Grommets
Designed for the Medium Size G3 Kennel
Black Color
Size: 24L x 18W x 2.25Thick
Weight: 7lbs
Enjoy FREE SHIPPING on your order!  No code necessary.  (Shipping to Continental US only.)
Molded and assembled in the USA.
Limitations and Warnings
Dakota 283 continues to make high quality innovative products that are used to contain and protect your dog. To that end we have been able to serve a vast majority of the dog population with our products. With that said, our framed door products can not contain ALL dogs. We expect that there are some breeds and or pets that are beyond containment with our products. While we have had great success in containing aggressive dogs we are not claiming that we can contain every dog. A good example would be a very aggressive Belgian Malinois.
The owner knows his dog intimately and should be the person that makes the final determination in regard to application of any product used with his or her own pet.
We are working on additional products that will give a higher degree of containment for breeds like the Belgian Malinois and expect to have these products to the market by 2019. If you have any questions in regard to these products or if the FRM door is right for your dog please reach out to us and we can help you through the decision process.
Residents of California-Proposition 65 Warning