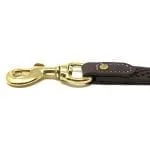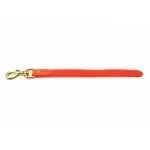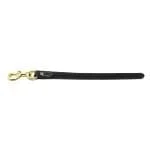 K-9 Komfort No Slip Grip Training Tab

$12.99

Made In USA
Description
The K-9 Komfort No Slip Grip Training Tab is a short lead for more control during training or can be useful when hunting in a blind.  The K-9 Komfort No Slip Grip Training Tab is approximately 15″ in length, is made from TufFlex and uses solid brass hardware.
TufFlex has the feel of soft leather with the added benefits of being waterproof, odor resistant and clean up easily with a damp sponge. The PVC coating over the high strength nylon webbing core allows these Training Tabs to remain soft and flexible down to -20 degree temps. The in-line riveting design coupled with the solid brass hardware make this lead virtually indestructible.
About K-9 Komfort
Family owned and operated since 1980,  K-9 Komfort has been manufacturing pet products using only the highest quality materials with skilled craftsmen right here in the USA.  K-9 Komfort selects quality materials with known components to protect your best friend while training, hunting in the field or just taking a walk through the neighborhood.  
K-9 Komfort No Slip Grip Training Tab Color Options