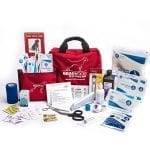 Ready Dog Professional Trauma Kit
Earn $3.72 in Front Range Cash
$185.95
Description
The Ready Dog Professional Trauma Kit is the most complete and versatile canine first aid kit available. The Professional Kit versatility makes it the perfect choice for your favorite hunting, sporting, or tactical dog. If the hunt takes you off the grid, you will appreciate the and peace of mind this kit offers.
Celox Hemostatic Granules were originally developed to assist military medics with some of the worst wounds imaginable. Proven in the Operating Room and on the Battlefield,Celox can stop severe bleeding in minutes. Celox stops bleeding by bonding with red blood cells and gelling with fluids to produce a clot.
Heavy Duty Bag with two see through pouches for easy organization of contents. The third pouch is our removable Field Pouch that allows you to take first aid to the field with you in a hunting vest or pack.
The Ready Dog Professional Trauma Kit Contents:
(1) Durable First Aid Bag with removable Field Pouch
(1) Canine First Aid Book
(1) 7 1/4″ Stainless Steel Paramedic Shears
(1) 5 1/2″ Stainless Steel Kelly Forceps
(1) Skin Stapler w/ 35 SS Staples
(1) 52 x 84 Mylar Emergency Blanket
(6) Sterile 4 x 4 Gauze Pads
(2) Sterile 5 x 9 ABD Pads
(1) Sterile 10 x 30 Multi-Trauma Dressing
(1) 4.5″ x 4 yd Sterile Bulk Roll Gauze
(1) 4″ x 5 yd Self Adhering Bandage Wrap
(4) Sterile Cotton Tipped Applicators
(1) 1″ Medical Tape
(1) 1″ x 18″ Latex Free Tourniquet
(1) 16 oz Bottle Hydrogen Peroxide
(1) 4 oz Bottle Eye Wash
(1) Instant Cold Pack
(1) Digital Thermometer
(1) Syringe
(8) 1 packs Antihistamine Capsule
(1) Box Anti-Diarrheal (Loperamide)
(2) Packets Honey
(3) Packets Celox Hemostatic Granules
(1) Pair Exam Gloves
(1) Emergency Information Card
(1) Odor Removal Solution Recipe
(3) Providone-Iodine Swabsticks
(2) Antiseptic Wipes
(2) Burn Gel with Lidocaine
Always be prepared on a road trip with your Ready Dog Professional Trauma Kit, the most complete and versatile canine first aid kit available.
Also see the Ready Dog Gun Dog First Aid Kit.
The Ready Dog Professional Trauma Kit Contents:
(1) Durable First Aid Bag with removable Field Pouch
(1) Canine First Aid Book
(1) 7 1/4″ Stainless Steel Paramedic Shears
(1) 5 1/2″ Stainless Steel Kelly Forceps
(1) Skin Stapler w/ 35 SS Staples
(1) 52 x 84 Mylar Emergency Blanket
(6) Sterile 4 x 4 Gauze Pads
(2) Sterile 5 x 9 ABD Pads
(1) Sterile 10 x 30 Multi-Trauma Dressing
(1) 4.5″ x 4 yd Sterile Bulk Roll Gauze
(1) 4″ x 5 yd Self Adhering Bandage Wrap
(4) Sterile Cotton Tipped Applicators
(1) 1″ Medical Tape
(1) 1″ x 18″ Latex Free Tourniquet
(1) 16 oz Bottle Hydrogen Peroxide
(1) 4 oz Bottle Eye Wash
(1) Instant Cold Pack
(1) Digital Thermometer
(1) Syringe
(8) 1 packs Antihistamine Capsule
(1) Box Anti-Diarrheal (Loperamide)
(2) Packets Honey
(3) Packets Celox Hemostatic Granules
(1) Pair Exam Gloves
(1) Emergency Information Card
(1) Odor Removal Solution Recipe
(3) Providone-Iodine Swabsticks
(2) Antiseptic Wipes
(2) Burn Gel with Lidocaine