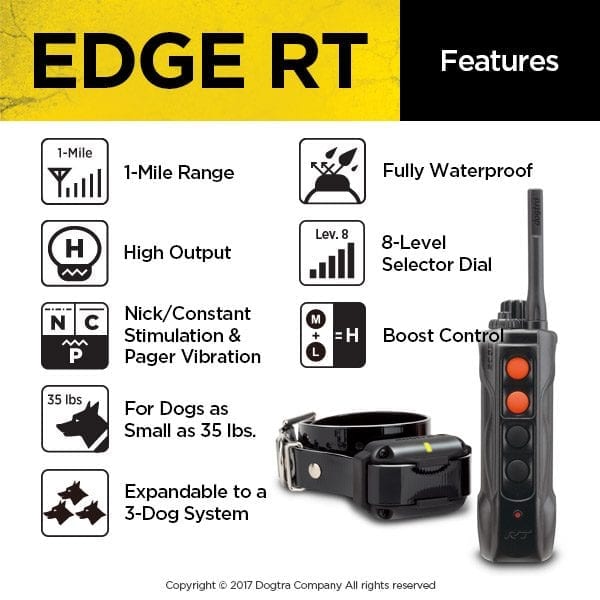 Dogtra EDGE RT System 1 Mile Range
Earn $10.80 in Front Range Cash
$359.99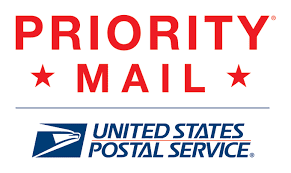 Free USPS Priority Mail Shipping
Description
Features
In The Box
Owner's Manual
Description
The Dogtra EDGE RT System has A few less "bells and whistles" than the full-featured EDGE with an affordable price tag.
The Dogtra EDGE RT system comes complete as a 1-dog system, but is fully expandable to a 3-dog system with the purchase of optional receivers (sold separately). With 1-mile range, and a fully waterproof receiver and transmitter, this system offers all of the features needed for most conditions. The 2-hour rapid charge Lithium Polymer batteries are housed in a separate compartment on the transmitter/receiver for easy replacement. The EdgeRT offers a selector/step dial with 8 "click-able" levels of stimulation. Nick, constant, and vibrating page options allow even more training flexibility. (EdgeRT comes with 1 handheld transmitter and 1 receiver collar with a black strap **additional receivers with different strap colors are sold separately).
How to Find the Right Stimulation
The stimulation intensity can be adjusted using selector dial on top of the handheld transmitter. There are 8 levels of stimulation intensity, with level 1 being the lowest level and level 8 being the highest. The level of stimulation best suited for your dog depends on your dog's temperament and threshold for stimulation. Always start at the lowest level and work your way up. The appropriate level can be found when the dog responds to the stimulation with a mild reaction, such as a tensing of the neck muscles. The stimulation level may vary depending on the training situation. When highly distracted, dogs will require a higher level of stimulation.
Fitting the Collar
The receiver/collar should be fitted so that the surgical stainless steel contact points press firmly against the dog's skin. When properly fitted, you should be able to fit a finger or two snugly in between the contact points and your dog's skin. When properly fitted, the receiver/collar should not move on the dog. The best location for the receiver/collar box is either side of the dog's windpipe. A loose fit can allow the receiver/collar to move around on the dog's neck. When this happens, the contact points may rub the skin and cause irritation. If the receiver/collar is too tight, the dogs may have difficulty breathing.
To learn more about the Dogtra Edge RT System read the Owner's Manual.
Model: EdgeRT
Manufactured by: Dogtra
1-Mile Range
Selector/Step Dial with Stimulation Levels 0-8
2-Hour Rapid Charge Batteries
Stimulation/Combination buttons
Nick, Constant, and Non-Stimulating Pager Vibration
Non-Stimulating Pager Vibration
Low to High Power Stimulation
Belt Clip
Fully Waterproof
Extendable Contact Points (5/8″ to 3/4″)
Expandable to a Three-Dog System
For Dogs as Small as 35 lbs.
2-Year Limited Lifetime Warranty
Transmitter
Receiver
Battery Charger and Splitter Cable
Test Light
Owner's Manual
Contact Point Extensions and Adjustment Tool
Carrying Case