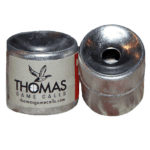 Thomas BobWhite Quail Call
Earn $0.76 in Front Range Cash
$18.95

Made In USA
Description
The Thomas Bobwhite Quail Call is an all metal call used for locating Coveys or Singles.  Our quail calls perfectly imitate the "BobWhite" sound that the BobWhite Quail makes. Don't leave your planned hunt to chance.
T
here are distinctions among species to be found in coloring and other contrasting features when you look a little closer, of course. However, to the quick eye, quail generally appear to be drab and rather ordinary. Given their coloring, these birds can achieve near invisibility by simply "freezing" in light cover. If you're going to see them, they need to come to you.
T
hat's where a good quail call makes the difference, and there's none better than those made by Thomas Game Calls. We've been bringing in quail for hunters and enthusiasts for 70 years. They are small and fit in your shirt pocket for easy access and portability. Thomas quail calls have been enjoyed by hunters worldwide for decades and are standard among quail hunters from Switzerland to Kansas.
How to use the Thomas BobWhite Quail Call
Features
Handmade because tradition does not roll off an assembly line.
Hand-tuned because accuracy shouldn't suffer just because a lot of people want your product.
Guaranteed for Life because when you love what you do, you stand behind it.
Weight: 6 Oz.
Dimensions: 1.25 x 1.25 x 1.25 in