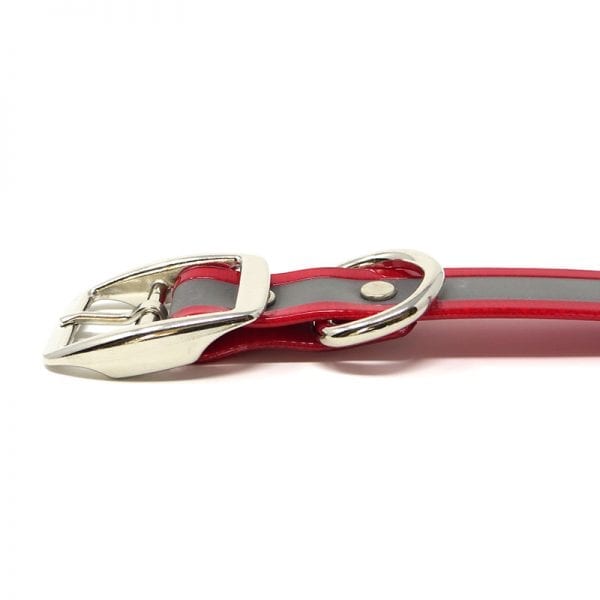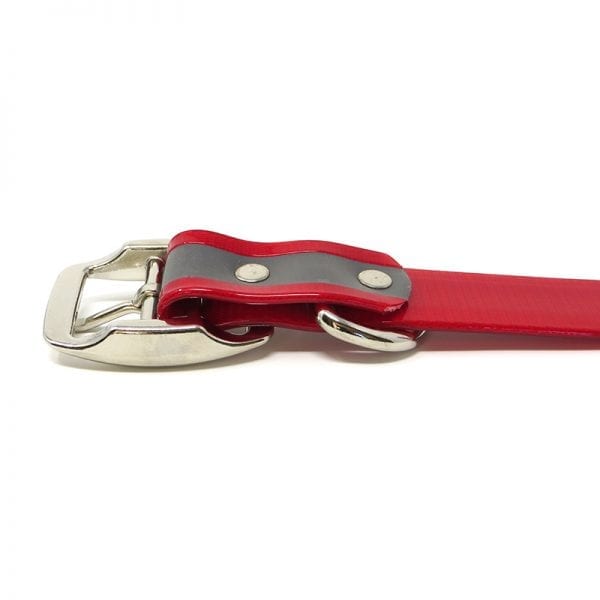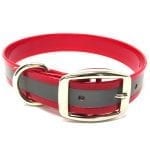 1 Inch Reflective Red D Ring Collar

$15.95
Free Brass Nameplate riveted to collar.


Proudly Made in the USA
Description
The 1 Inch Reflective Red D Ring Collar is made with BioThane® coated webbing and a 3M® reflective strip that runs the entire length of the collar. The 3M® reflective strip features Edgeguard technology that protects the edges of the 3M® reflective strip from abrasion and produces stronger adhesion to the webbing. It reflects the available light to increase visibility and safety for your dog in low light conditions. These collars are made of a durable waterproof non-porous material that does not absorb odors or stains and cleans up easily with soap and water. The in-line riveting design coupled with the solid nickel plated steel hardware make this collar virtually indestructible.
Free Brass Nameplate with Easy to Read Characters
Our nameplates are 0.8 mm thick cartridge brass.
Each character is engraved to a depth of 0.3 mm and filled with a black resin so the information is easy to read.
We are able to engrave any character found on your keyboard.
Line 1 has 20 Characters Limit Including Spaces.
Lines 2 and 3 have 17 Characters Limit Including Spaces (shortened by the rivet head on each side).
Line 4 has 20 Characters Limit Including Spaces
All nameplates are press riveted with solid brass 104 tubular rivets and end caps.
The 1″ collar nameplate measures 2 3/4″ long and 3/4″ high.
The 3/4″ collar nameplate measures 2 3/4″ long and 5/8″ high.
We customize the tag with any info you like, although the most popular information is:
Your Name
Your City & State
Phone #
Phone #
Measure the Size of Your Dog's Neck
Use a flexible measuring tape or a piece of string to measure.
Measure the circumference of the neck where the collar will rest.  Allow for appropriate tightness with this measurement.
With the number from this measurement, refer to the sizing chart below to determine the correct size collar.
There are 5 adjustment holes on a collar, each representing 1″ of adjustment.
Choose the collar size that best matches your measured length to the middle hole of the collar.
Sizing Options
The 1 Inch Reflective Red D Ring Collar is matched to go with the TufFlex Red Lead 3/4 in. by 4.5 ft and 6 ft.
About BioThane®
BioThane® is an Ohio based company focused on coated webbing products that utilizes progressive engineering, research and development. Since 1977, BioThane® has established a leadership position in the coated webbing industry through best in class product innovation.
All BioThane® products are Prop 65, REACH and CPSIA compliant.  Read more about BioThane® Regulatory Standards here.