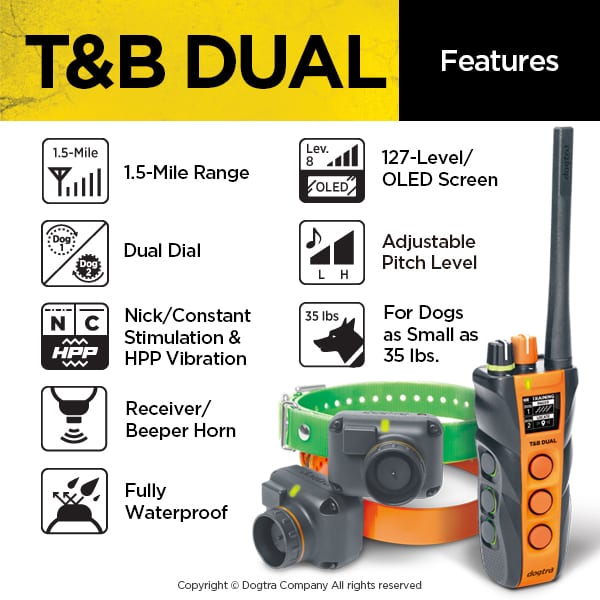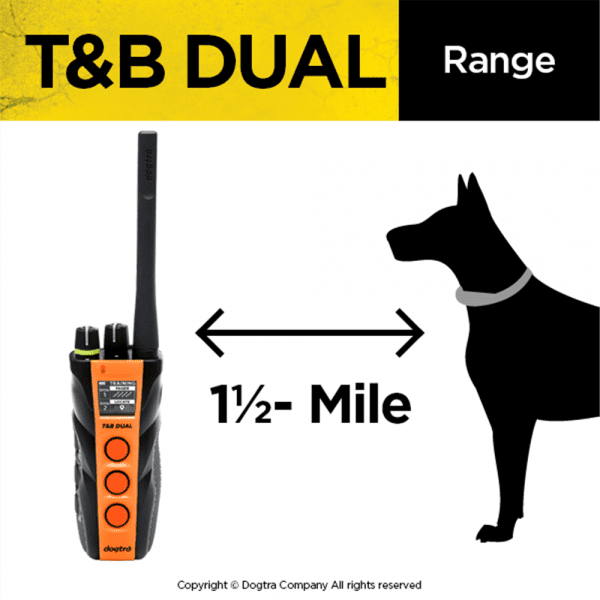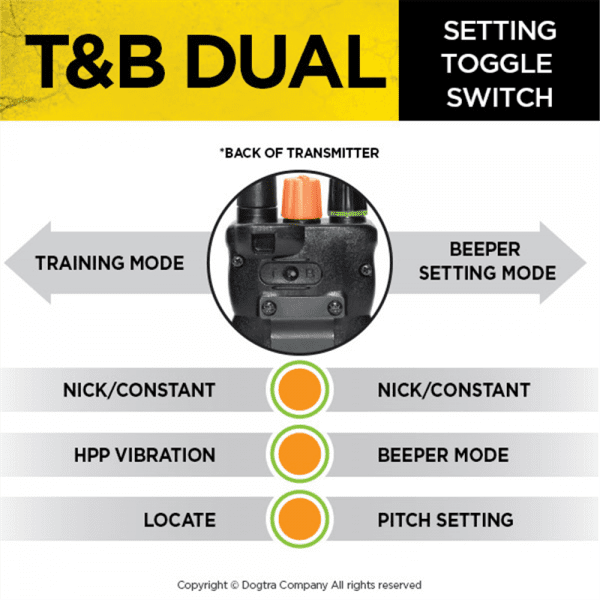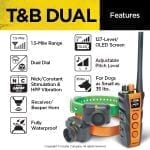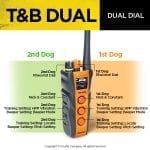 Dogtra T&B DUAL 2 Dog
Earn $5.50 in Front Range Cash
$549.99
Description
The Dogtra T&B DUAL 2 Dog is the advanced DUAL DIAL Training & Beeper e-collar, designed for upland hunters.
It is equipped with the DUAL DIAL transmitter with key features like 127 Nick/Constant stimulation levels, HPP vibration, Locate Beeper, Run/Point Beeper Modes, and a 1.5-mile range*.
The expandable DUAL DIAL transmitter of the T&B comes with an OLED screen and two sets of the Rheostat Dial and buttons dedicated to each collar, which allows seamless and effective operation of the collars without switching the stimulation levels back and forth. The receiver of the T&B DUAL has a unique single-body receiver/beeper horn to eliminate the bulkiness and enhance the durability. It is equipped with the Accelerometer sensor for the most accurate motion detection of the Beeper Modes for Point-Only and Run/Point.
* The range may reduce depending on the surroundings.
Proper Fit
The collar should be fitted so that the surgical stainless steel contact points press firmly against the dog's skin. You should be able to fit a finger in between the contact point and your dog's skin. The best location is on either side of the dog's windpipe.
Dogtra T&B DUAL 2 Dog Features:
Rheostat Dial for gradual adjustments in stimulation intensity with no jumps between levels (0-127)
Two-dog model allows control of two different dogs from one transmitter
1.5-mile range
Two different stimulation types – Nick & Constant
High Performance Pager (HPP) vibration
Advanced Accelerometer run/point sensor
Three beeper modes – Run/Point, Point-Only, and Locate
Two different beeper pitches – low & high pitches
Combines the receiver with the beeper horn into one small, compact unit
2-hour rapid charge lithium polymer batteries
Fully waterproof receiver/collar and transmitter
No bothersome external antenna on the receiver/collar
Easily visible OLED screen displays each dog
Three bar battery life indicator and LED colored indicator to show battery life
In The Box
DUAL DIAL Transmitter
2 Receivers
Battery Charger and Splitter Cable
Test Light
Belt Clip
See Dogtra T&B DUAL 1 Dog System here
Dogtra T&B DUAL 2 Dog Extended Product Warranty
EXTENDED LIMITED WARRANTY
For Certain Dogtra Products Purchased from Dogtra Authorized Dealers
1+1 Year Extended Warranty
Except as otherwise provided, Dogtra warrants to the original retail purchaser ("You") that your Dogtra product shall be free of defects in materials and workmanship for a period of one (1) year from the date of purchase ("Original Warranty"). As a special promotion, Dogtra further warrants that your Dogtra product shall be free of defects in materials and workmanship for an additional one (1) year from the date that your original warranty expires ("Extended Warranty"). The Original and Extended Warranties cover the cost of repair (parts and labor) or replacement (if repair is not feasible) of a defective Dogtra product during said warranty periods. For such repaired or replaced products, the remaining portion of the warranty periods, or ninety (90) days, whichever is longer, shall apply. Dogtra, at its sole discretion, shall determine whether to repair or replace a product covered by the Original Warranty or Extended Warranty.