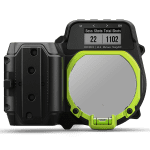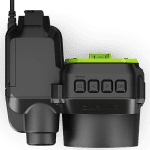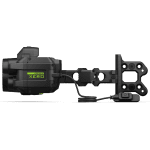 Garmin Xero A1 Bow Sight
$799.99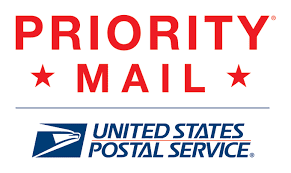 Free USPS Priority Mail Shipping
$100 Garmin Rebate valid 01Mar2023 through 30Apr2023
Description
Reviews (0)
Additional Videos
FAQ
Description
With the Garmin Xero A1 Bow Sight you can Range, Sight and Shoot the Exact Pin.
Know the range, and shoot the exact pin with minimal movement using Xero bow sights. They're the first bow-mounted digital laser range finders and targeting display systems that measure the angle-compensated distance to your target and provide an LED pin for the shot — even on those "in-between" yardages. LED pins automatically adjust brightness to conditions and allow you to see your target, unobstructed by physical pins. A single-button trigger lets you range at rest or full draw to game up to 100 yards away or to reflective targets up to 300 yards. Both Xero A1 and A1i are customizable for single-pin and multipin configurations or manual pin selection.
All-in-one Design
Xero bow sights mount directly to your bow, providing a highly accurate laser range finder that calculates the exact LED pin to use for the shot. There's no need to fumble with a separate range finder or guess which pin to use.
Laser Range Finder
No more guessing about yardages in between pins. Xero A1 and A1i bow sights instantly provide the precise angle-compensated distance to game up to 100 yards away or up to 300 yards on reflective targets, at rest or full draw.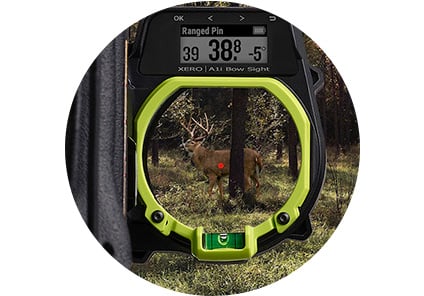 LED Pins
The beauty of using bright LED pins is that you can clearly see them over your target, unobstructed by physical pins. Xero A1 utilizes red LEDs while A1i gives you the option to use red or green LEDs.
For even more pin stack customization, you can move your range pin stack up or down so you don't have to recalibrate the entire stack. You will need to reset your mechanical adjustments to match the new pin stack to ensure proper arrow impact is achieved. This is useful when you want your 20/30/40 pins centered in the housing for one style of hunting but also desire to achieve your maximum range on other hunting styles.
Silent Button Trigger
When stealth and stillness are critical, Xero bow sights require minimal movement, at rest or full draw. You mount the button in the most convenient location for your grip so that 1 finger can silently trigger the laser range finder to give you the distance and exact pin you need for the shot.
Practice Makes Perfect
Record your performance during practice shooting sessions, and review your stats for various ranges and sessions over time.
Tournament-Ready
You can also record your shot dynamics during a tournament where range finders are not allowed. A competition file is created during the tournament, which allows you to go back and review cant from shot to shot.
Make Sure Your Shot Is Level
Built-in level indicators allow you to eliminate cant from your shot. A top pin blinking indicates canting the bow to the right. A bottom pin blinking indicates cant to the left. The center pin is always solid. These 3 pins will always appear away from your aiming pins.


In The Box
Xero A1 bow sight (right handed part number 010-01781-00- or left-handed part number 010-01781-01 depending on version selected)
Mount
2 screws
Protective bag
Grip tape
microUSB cable
Xero A1 Bow Sight Physical & Performance
| | |
| --- | --- |
| Physical dimensions | 3.9″ x 3.1″ x 3.8″ (100.3 x 79.4 x 97.1 mm) |
| Display size | 1.00″W x 0.42″H (2.5 x 1.1 cm); 2.0″ diag (5.0 cm) |
| Interface | USB |
| Water rating | IPX7 |
| Display resolution | 160 x 68 pixels |
| Weight | 14.7 oz (418.0 g) |
| Display type | sunlight-visible, transflective memory-in-pixel (MIP) |
| Battery | 2 lithium AAA (not included) |
| Battery life | Up to 1 year |
Water Rating Information
IPX7,
1 ATM
Suitable:

Splashes
Rain or snow
Showering

Unsuitable:

Swimming
Diving into water
Snorkeling or Scuba Diving (see product page for more details)
High-speed watersports
Xero A1 Bow Sight Features
Additional

LED pins: 1 color (red)
Pin diameter = .007" and larger
Range: 100 yards to game; 300 yards to reflective targets
Operating range: -20C (-4F) to 60C (140F) with two AAA Lithium batteries.
Glass lens coating:
target side is anti-reflective, water repellant and easy clean
archer side is 20% reflective, water repellant and easy clean
Light projection: no visible light is ever projected towards the target
Magnification: none
Pin brightness: ambient light sensor controlled or manual
Silent button trigger
Shot counter
Customizable fixed pins
Warranted to be free from defects in materials or workmanship for one year from the original date of purchase

Touchscreen
No
Xero Bow Sight Legal Use Frequently Asked Questions
Below are some frequently asked questions regarding the legal use of the Xero A1 and A1i bow sight.
Does the Garmin Xero Bow Sight project visible light on the target during use?
No, the Xero Bow Sight projects only infrared (non-visible to the human eye) light onto the target as part of its laser range finding function.
---
Can the Garmin Xero Bow Sight ever be used to project visible light towards a target?
No.
---
Does the Garmin Xero Bow Sight use illuminated pins?
Yes. The Xero Bow Sight uses light emitting diodes to present the pin for the shot onto a piece of angled glass. The light from this diode is then reflected back towards the eye of the archer.
---
Does the Garmin Xero Bow Sight provide a magnified view of the target?
No.
---
Is the Garmin Xero Bow Sight similar to a scope?
No. Scopes provide magnification. The Xero Bow Sight does not. The glass used in the sight is for the reflection of pins to the eye only. There is no magnification provided.
---
Does the Xero Bow Sight enhance vision to the target in dim or night conditions?
No, the Xero Bow Sight cannot illuminate the target. Only the aiming pins are illuminated. The infrared light used by the Xero is only used to range the target. It does not illuminate the target.
---
Is the Garmin Xero Bow Sight a "Laser Sight" or "Red Dot Sight"?
Those terms are typically used for sights that emit a human eye visible beam of red light to the target. The Xero Bows Sight's laser range finding functionality only emits invisible, infrared light. The pins, which are visible to the hunter, are only projected towards the hunter's eye.
---
Is the Garmin Xero Bow Sight legal for a certain state?
The Xero A1 & A1i bow sights are legal to use in the majority of the United States. It is the responsibility of the hunter to know the specific bow hunting regulations for their state and hunting region. Garmin does not publish the bow hunting regulations for each state as they vary and can change from year to year. Review your desired state's bow hunting regulations to confirm if the Xero A1 or A1i are legal to use.