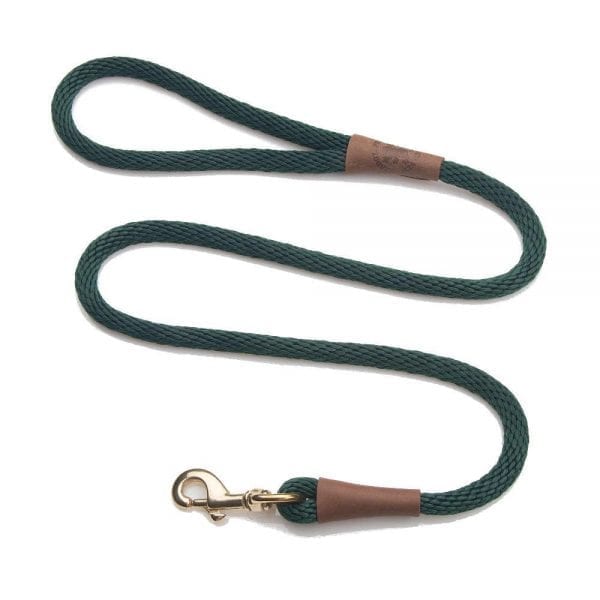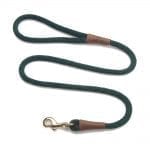 Mendota Rope Snap Leash

$18.49 – $18.95

Proudly Made in the USA
Description
The Mendota Rope Snap Leash is made from premium multi-filament UV protected polypropylene rope with stitched leather sleeves and and a heavy duty brass snap.  Proudly made in the USA.
Snap Leashes – Braided snap leash perfect for walking, exercise, or field use.
Soft on the hands with its "Broken in Feel" easy to use and pliable enough to fit in your coat pocket

Solid brass hardware and oil tanned leather splices

Made of waterproof, vibrant, long-lasting multi-filament polypropylene rope.
UV protected
Machine washable, air dry only

Handmade in the USA

100% satisfaction guarantee

Recommended for dogs weighing 50-250 pounds
Sizes:
Mendota Rope Snap Leash Colors:
Black, Blue, Hi Viz Yellow, Hunter Green, Orange, Red
See our wide variety of collars that come with a free custom brass nameplate riveted to the collar.
About Mendota Pet
Founded and family-ran since 1994, Mendota Pet has been providing high quality, "made in the USA" products.
Mendota Pet Gear line has all the necessities that your dog will need, whether its just an everyday use for a collar and leash, for the big hunt or all the way to the Show Ring! Mendota's gear for dogs is built to last, in fact we guarantee the Mendota Rope Snap Leash for the life of your pet.