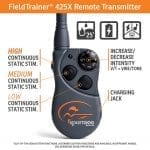 SportDOG FieldTrainer 425X 500 Yards Range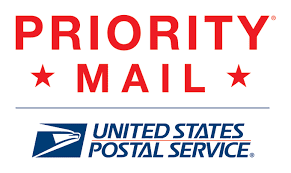 Free USPS Priority Mail Shipping.
Description
The compact SportDOG FieldTrainer 425X is our smallest and lightest e-collar built for in-the-field training or hunting with close working dogs.
Consistency and perfect timing are critical to developing your sporting dog, so the remote is quickly and easily  operated without having to look at it – which lets you focus on your dog and not your equipment. With only a slight movement of the dial and the push of a button, you will be able to deliver a tone, vibration, or one of the 21 levels of static stimulation. Use these stimulation types to communicate with up to 3 dogs (with purchase of Add-A-Dog® collars) out to 500 yards with any of the SportDOG 425X models.
FieldTrainer 425X Features
500 yard range with internal antenna system
DryTek Waterproof design technology – Transmitter and Receiver submersible to 25 ft
21 levels of static stimulation levels or 7 levels of momentary STIM with either non-stimulating tone or vibration (depending on transmitter mode)
Option to train with VIBRATION or TONE
Rechargeable Li-Ion Batteries rapid charge in only 2 hours
50-70 hours use between charges
Dual Lead Charger lets you charge transmitter and receiver at the same time
Expands to 3 dogs (with purchase of optional Add-a-Dog collar/receivers)
Intuitive, no-loop operation lets you stay focused on your dog
Basic Training Manual included
Transmitter weighs only 4.0 ounces
Collar/Receiver weighs only 3.3 ounces (including 3/4″ collar strap)
Ergonomic, "SHAPED" collar/receiver design
Backward-compatible with previous SD-425 series remote collars
Transmitter has the ability to activate/deactivate the SD-Beep Locate Beeper (sold separately).
Receiver without strap – 2.60″L X 1.30″W 1.23″D
Remote Transmitter with antenna – 5.30″L X 1.70″W X 1.00″ D
SportDOG 425X In the Box
Remote Transmitter
Collar Receiver with Black Collar Strap
Dual Lead Charging Adapter
Test Light Tool
Lanyard
Short and Long Contact Points
Basic Training Manual
Model: SD-425X
Manufactured by: SportDOG Brand