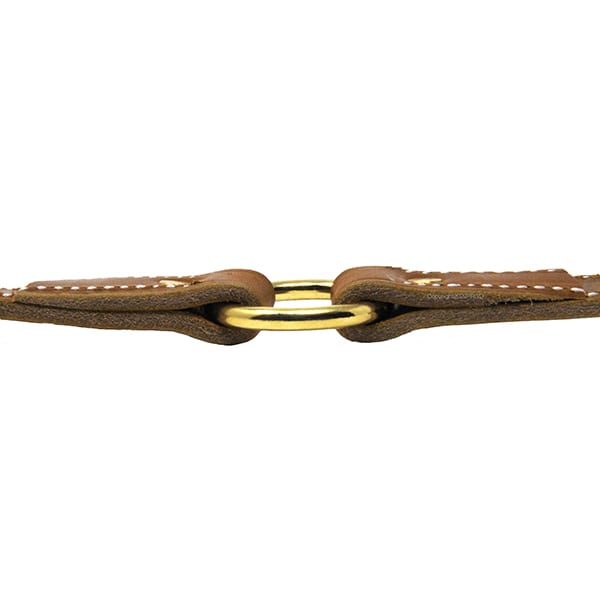 1 Inch Tan Leather Center Ring Collar

$19.95
Free Brass Nameplate riveted to collar.


Proudly Made in the USA
Description
The 1 Inch Tan Leather Center Ring Collar is made thick durable 8-10 oz. high quality leather that will stand the test of time on the hard working gun dog.  This leather collar is stitched and finished for consistent color and pliability. Eight or more lock stitches per inch are used for proper leather stitching (no cross-grain stitching) to maintain material strength and integrity of the leather. A skive leather craft cut is used on the flesh side of the leather to create a tapered thickness where leather pieces are joined to ensure a smooth transition for your dog.  In-line solid brass tubular rivet construction maintain strength and integrity. There is nothing better than natural material that breathes with the conditions.  The more it is used the more comfortable it becomes. The 1 Inch Tan Leather Center Ring Collar is Proudly made in America and uses the finest quality solid brass roller buckle, center ring, D-loop and rivets.
Free Brass Nameplate with Easy to Read Characters
Our nameplates are 0.8 mm thick cartridge brass.
Each character is engraved to a depth of 0.3 mm and filled with a black resin so the information is easy to read.
We are able to engrave any character found on your keyboard.
Line 1 has 20 Characters Limit Including Spaces.
Lines 2 and 3 have 17 Characters Limit Including Spaces (shortened by the rivet head on each side).
Line 4 has 20 Characters Limit Including Spaces
All nameplates are press riveted with solid brass 104 tubular rivets and end caps.
The 1″ collar nameplate measures 2 3/4″ long and 3/4″ high.
The 3/4″ collar nameplate measures 2 3/4″ long and 5/8″ high.
We customize the tag with any info you like, although the most popular information is:
Your Name
Your City & State
Phone #
Phone #
Measure the Size of Your Dog's Neck
Use a flexible measuring tape or a piece of string to measure.
Measure the circumference of the neck where the collar will rest.  Allow for appropriate tightness with this measurement.
With the number from this measurement, refer to the sizing chart below to determine the correct size collar.
There are 5 adjustment holes on a collar, each representing 1″ of adjustment.
Choose the collar size that best matches your measured length to the middle hole of the collar.
Sizing Options
15″ Collar Length fits neck size 13″ – 17″ – Middle hole of 5 adjustment holes fits 15″ neck size
17″ Collar Length fits neck size 15″ – 19″ – Middle hole of 5 adjustment holes fits 17″ neck size
19″ Collar Length fits neck size 17″ – 21″ – Middle hole of 5 adjustment holes fits 19″ neck size
See these matching leads for the The 1 Inch Tan Leather Center Ring Collar: Bully Leather Lead, French Snap Leather Lead