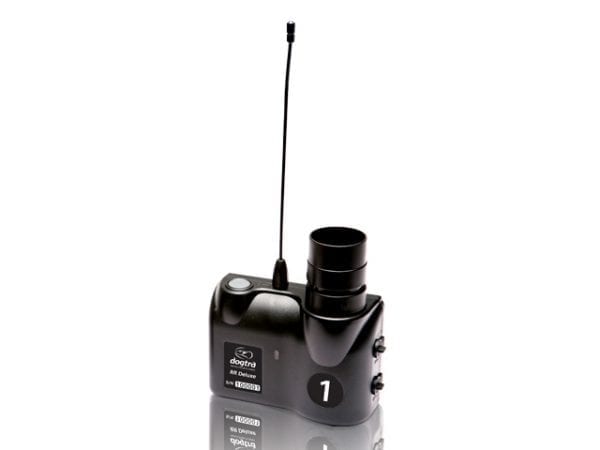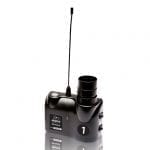 Dogtra Extra RR Deluxe Receiver
Earn $1.80 in Front Range Cash
$179.99
Description
Features
In The Box
Description
The Dogtra Model D-RCV Extra RR Deluxe Receiver for both PL and QL sized Bird Launchers is required to Add-On additional launchers. The Dogtra RR Deluxe Receiver features two sound modes authentic mallard duck-call attention getter or a beep-locater sound. The receiver can operate two launchers with the use of a 15 foot jumper cord. The RR Deluxe Receiver is water resistant and programmable, so you can start with a smaller system and later add launchers without having them specially built to match your system.
Overview
Dogtra remote release bird launcher system is an effective tool to train your dogs to hold a point or stop to flush. With a remote release bird launcher system you can train your dogs by yourself. The Dogtra remote release bird launcher system uses a transmitter and a receiver to release the launcher from a remote location. Sound functions on the receiver can be used to train a dog or to find a launcher in heavy cover. Dogtra remote release bird launcher System allows you to release up to 16 launchers by using left and right jack buttons and turning the transmitter selector dial to the number that corresponds with the bird launcher. Each setting will operate two launchers.
Description of RR Deluxe Receiver Parts
Flexible antenna: Flexible antenna is located on the top of the receiver. Please do not bend the antenna forcibly for it can cause serious reduction in range.

Speaker horn: Sound horn emits loud beep tone or quacking sound when you press "beeper" or "duck call" button.

On/off switch: Press on/off switch to turn on and off the power.

Indicator light(LED) : The color of the light indicates the status of battery life (Green =full, Amber = medium, Red = needs charge). The indicator light glows when buttons from a transmitter are pressed as well.

Battery charging receptacle / rubber plug: Plug the charger cable jack into this receptacle when charging the collar. After charging, make sure the rubber cover is fully seated so that dirt will not enter the receptacle.

Left jack; Jack located on the left side where a launcher can be plugged.

Right jack: Jack located on the right side where another launcher can be plugged.

External speaker jack: Jack for an external loud speaker, which can be purchased separately.
To learn more about how the add-on RR Deluxe Receiver integrates multi-launcher set-ups read the Dogtra RR Deluxe System Owner's Manual.
How to add a Dogtra Launcher Receiver to a Dogtra Hand Held Launcher Transmitter: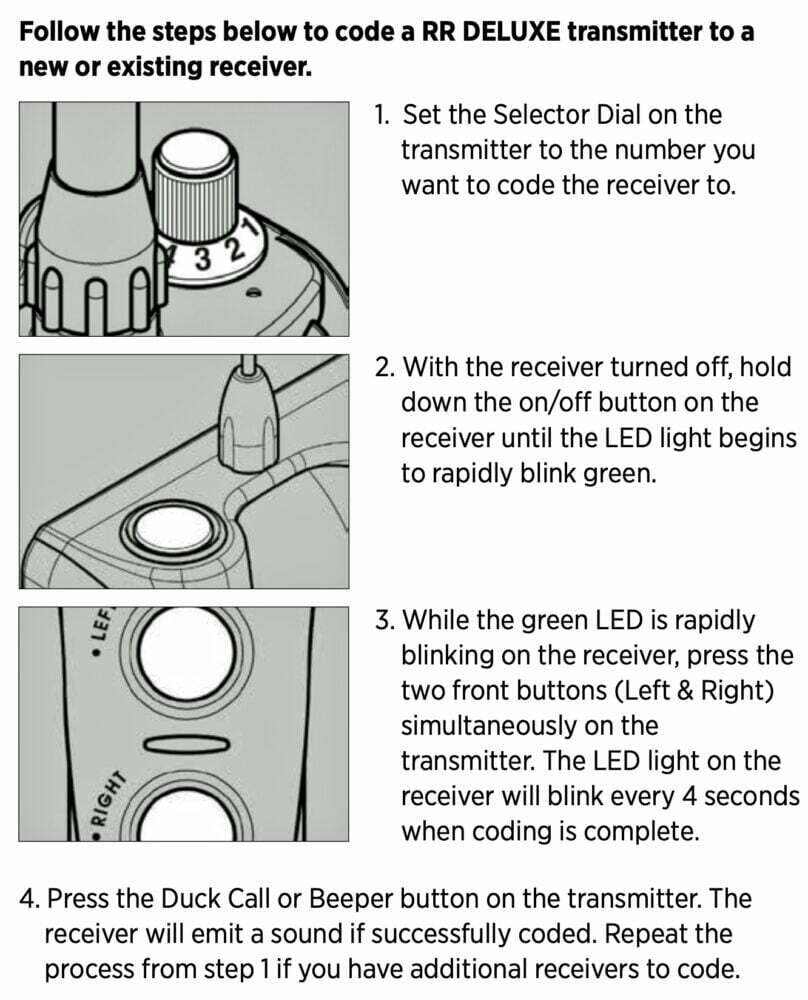 Multiple Sound Modes
Realistic Duck Call For Retriever Training
Beep Sound is Handy For Locating The Launcher
1-Mile Range
Advanced 2 Port System so You Can Run 2 Launchers Off 1 Receiver
Water Resistant Receiver
User Friendly Coding
Add Extra Receivers & Match Them Anywhere, Any Time
Long Lasting Rechargeable Ni-MH Batteries
Multi Colored LED Light Battery Life Indicator
Receiver (1)
Battery Charger
Code Setting Guide
Numbering Stickers