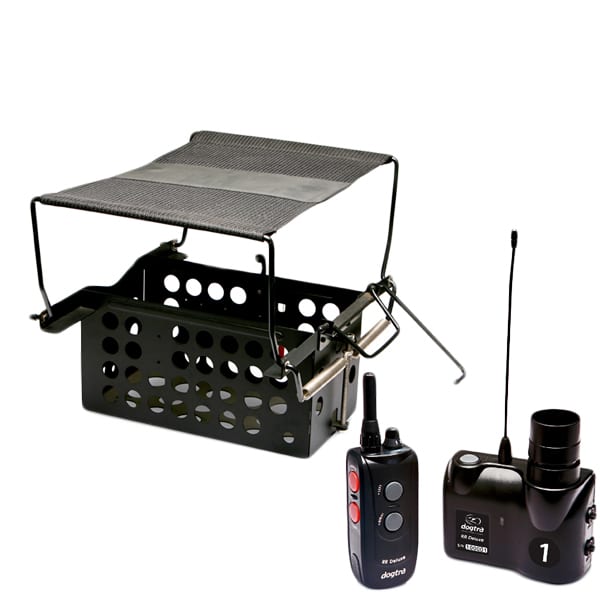 Dogtra Pheasant Launcher
Earn $2.00 in Front Range Cash
$419.98
Description
The Dogtra Pheasant Launcher is designed for Pheasant and Chukar sized game birds.  When training your dog to point or flush, it is essential to build positive association with proper bird exposure during field training. The Dogtra Bird Launcher includes the RR Deluxe electronics so you can control exactly when the bird takes flight. This lessens the chance of birds being caught on the ground by an enthusiastic puppy.
The Dogtra Pheasant Launcher features a vented launcher for maximum air flow to enhance scent distribution, making it easier for your dog to wind the bird in the launcher. Patented adjustable spring tension allows adjustment of throwing height and makes for a very quiet launch, a real must for starting a shy dog on birds.
The RR Deluxe receiver mounted to the launcher features two sound modes; a mallard duck call and a locator beeper.  The locater beeper is very handy when collecting empty launchers after a training session.
When training a dog to be steady to flush and shot, it is often best to include at least one multiple launcher set on your course.  This will teach your dog patience.  They will soon realize that there can be more than one bird and this will prepare them for those early season coveys with young birds that sit tight and have a delayed flush.
Each transmitter will operate 8 individual Dogtra Bird Launchers or 16 Dogtra Bird Launchers paired with the 15 foot Launcher Extension Cable.  Dogtra remote release bird launcher system allows you to release up to 16 launchers by using left and right jack buttons and turning the transmitter selector dial to the number that corresponds with the bird launcher. Each setting will operate two launchers.
Main Features:
Up to 8 individual launchers from one transmitter
Multilple releasers : up to 16 launchers (paired 2 X 8) controlled from one transmitter
Multiple sound modes : a receiver emits a mallard duck call and beep sound
Range : effective within one mile
Launcher box and bird cradle are designed for maximum air flow which enhances scenting and also improves air flow for bird
Quiet launch : prevents dogs from being startled by a loud release noise
Waterproof : a handheld transmitter is fully waterproof (receiver is water resistant)
Multi colored LED : 3 types of LED colors show the remaining battery life
Package Contents:
Transmitter and antenna receiver
Battery charger and cables