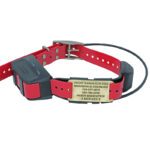 E-Collar Nameplate
Earn $0.20 in Front Range Cash
$10.00

Proudly Made in the USA
Description
The E-Collar Nameplate allows you to provide identity for your dog and your tracking collar or training collar in the event it gets lost.  Protect your investments by providing a way for them to get back home.
The e-collar strap on your tracking or training receiver slips through the E-Collar Nameplate .  The nameplate is designed to work with both 1″ and 3/4″ e-collar straps.  Mounting options vary between receivers.  The E-Collar Nameplate measures 2 3/4″ long and 1 1/4″ high.  Before buying the E-Collar Nameplate, check to make sure your particular e-collar strap and receiver can accommodate the size of this nameplate.
In the example below, the E-Collar Nameplate is mounted to a Garmin TT 15X collar between the receiver and top mounted antenna.  This is an ideal placement for the nameplate on the Garmin TT 15 collar. Also works with TT15 Mini, T5, and T5 Mini Collars.
Cartridge Brass Nameplate with Easy to Read Characters
Lines 1-6 have 19 characters per line maximum including spaces.
Our nameplates are 0.8 mm thick cartridge brass.
Each character is engraved to a depth of 0.3 mm and filled with a black resin so the information is easy to read.
We are able to engrave any character found on your keyboard.
The nameplate measures 2 3/4″ long and 1 1/4″ high.
All nameplates are finished with a black Laquer-Stik fill-in-paint to emphasize the characters.
We customize the tag with any information, provided you use the characters listed above. The most popular information is:
Line 1:  Your Name
Line 2:  Your City & State
Line 3:  Phone Number
Line 4:  Phone Number
Lines 5-6: Additional Information