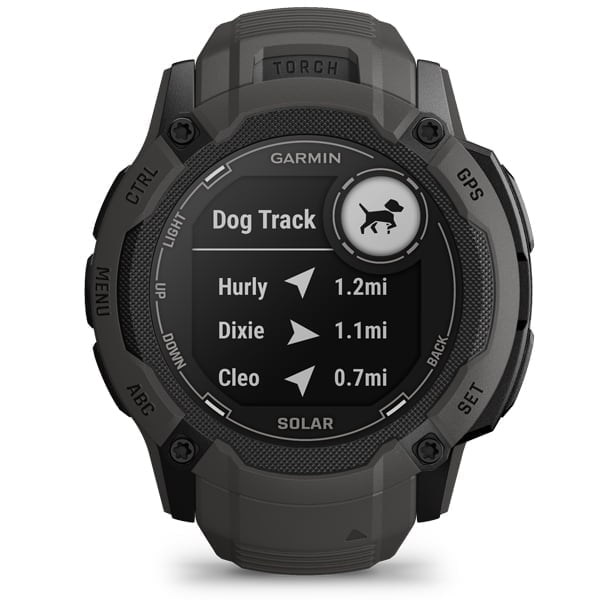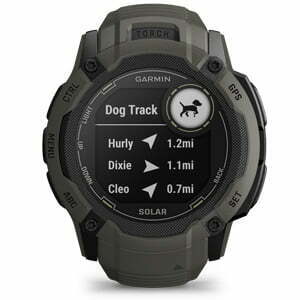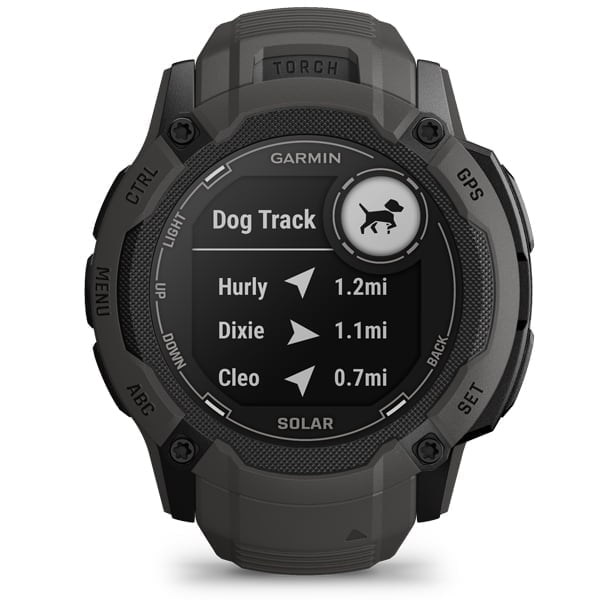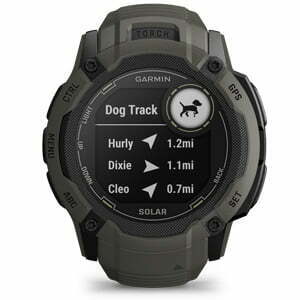 Garmin Instinct 2X Solar
$449.99
At-A-Glance Dog Tracking
Military Spec Rugged Contruction
Advanced Solar Charging
Free Shipping!
Description
Additional information
Reviews (0)
Description
The Garmin Instinct 2X Solar is a rugged GPS smartwatch tough enough to keep up with you and bold enough to fit your style. Its expansive solar charging lens keeps a larger battery going longer— powering advanced training features, a built-in flashlight, multi-band GNSS, health/wellness monitoring sensors and much more.
Garmin Instinct 2X Solar Dog Tracking Features:
The ability to track your dogs, at a glance, when using a compatible Garmin GPS Hand Held Transmitter (Alpha 300i, Alpha 300, Alpha 200i, Alpha 200, Alpha 100, PRO 550 Plus,  Alpha 10, Astro 430 and the Astro 320).
See up to 3 dogs on the watch face screen at one time. Up to 20 dogs can tracked with the watch depending on the features of the hand held broadcasting data to the watch.  Use the scroll feature on the watch to see dogs 4-6 and so on.
Each dog will have their unique distance and direction as well as a dog icon indicating on point or moving status.  The treed icon will show when the hand held is configured for treeing dogs.
The Garmin Instinct 2X Solar can be configured to provide on point alarms: tone only, vibrate only, or tone and vibrate.  The option to have no on point alarms is also available.
Setting Up the Dog Tracking Widget on your Instinct:
When a dog tracking device has been paired to the watch, the Dog Tracking widget automatically appears in the widget or glance loop. The widget or glance cannot be added before a dog tracking device is paired.
Hold UP/MENU.
Select Sensors & Accessories.
Select Add New.
Select DogTrack.
Select the dog tracking handheld and wait for the pairing to complete.
Press BACK/LAP repeatedly until the watch returns to the watch face.
Scroll up or down from the watch face to locate the DogTrack widget or glance.
---
If your watch is unable to find the signal from your dog tracking handheld, first ensure that the handheld is broadcasting the signal. If the handheld is broadcasting, reset the pairing on the watch by turning off the DogTrack Status and then turn it back on again.
Hold UP/MENU.
Select Sensors & Accessories.
Select DogTrack.
Select Status to toggle off.
Select Status again to toggle back on.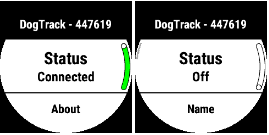 Example screenshots are from a fēnix® 6 watch, however the process is the same on other watches. You can also restart both the watch and the handheld.
Removing and Pairing the Dog Tracking Handheld:
If the above does not resolve the issue, remove the handheld pairing on the watch, and re-pair using the following steps.
Hold UP/MENU.
Select Sensors & Accessories.
Select DogTrack.
Select Remove.
Select Add New.
Select Dog Track.
Select the dog tracking handheld and wait for the pairing to complete.
Dog Alerts
You are able to customize how you receive alerts about your dog's status and movement. When enabled, Dog Alerts displays a message notification along with a vibration, tone, or both to alert you of the dog's movement status and changes to pointing or treeing.

Scroll to the DogTrack glance.
Press GPS.
Select Dog Alerts.
Select the preferred alert configuration:

Vibration – displays a message and watch will vibrate
Tone – displays a message and watch will beep
Message Only – displays a message only
Tone and Vib. – displays a message and watch will beep and vibrate
Alerts Off – No alerts will display
In The Box:
Instinct 2X Solar
USB-C charging/data cable
Documentation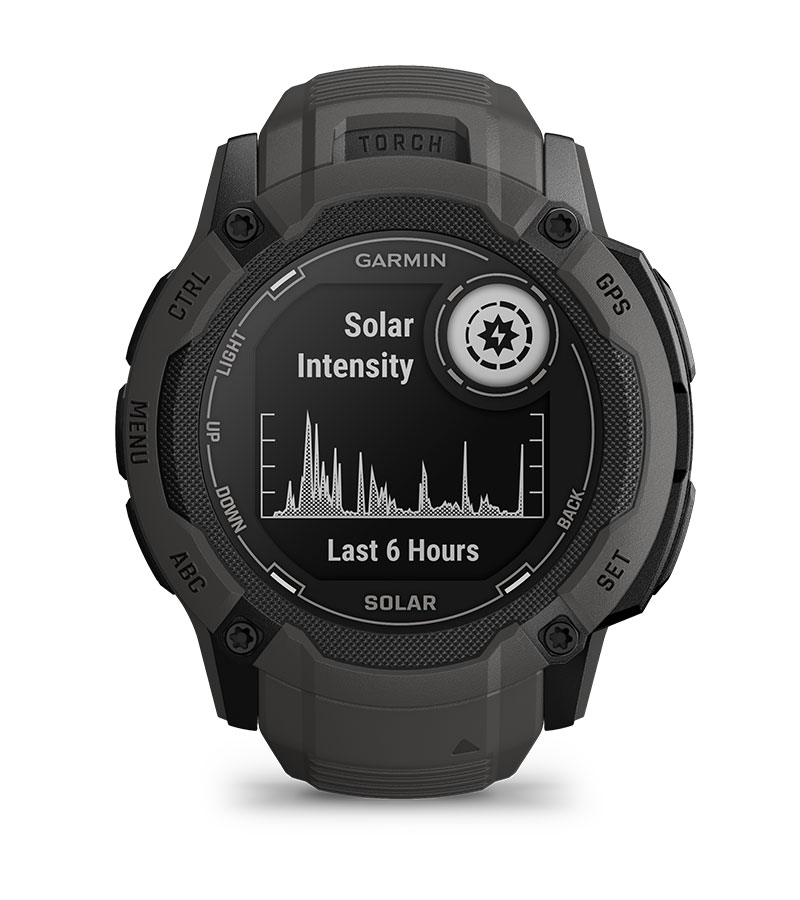 SOLAR POWERED
Solar charging Power Glass™ lens extends battery life, producing 50% more energy than the Instinct® 2 Solar. Go longer with the potential for unlimited solar-charged battery life in smartwatch mode.

BUILT-IN FLASHLIGHT
To help guide your way in low-light conditions, a built-in multi-LED flashlight provides variable intensities and strobe that matches your running cadence — plus a red safety light mode to help keep an eye on your nighttime surroundings.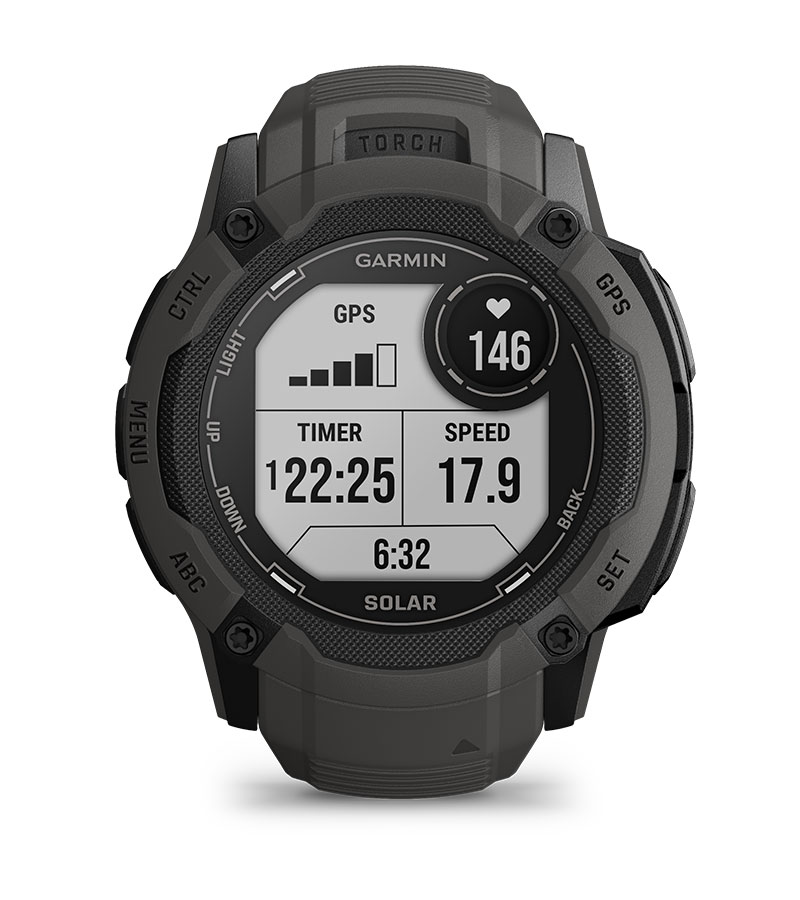 MULTI-BAND FREQUENCY SUPPORT
Receive and utilize multiple frequencies sent by navigation satellites, which enable improved user position accuracy specifically in areas where GNSS signals are reflected, weak or typically do not penetrate.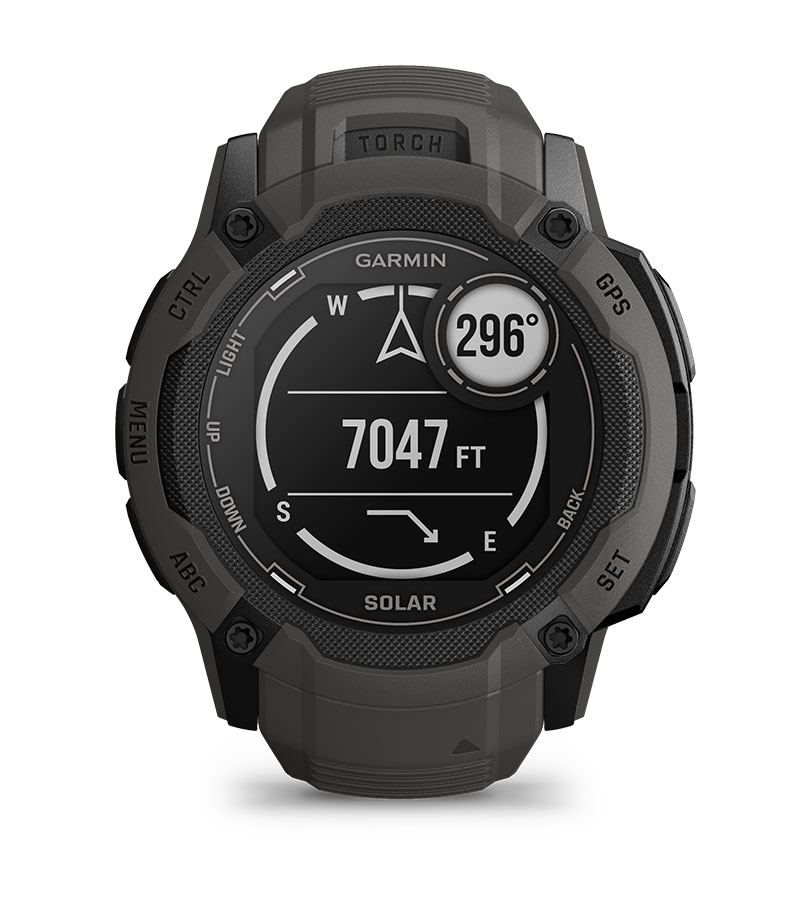 ABC SENSORS
Navigate your next trail with ABC sensors, including an altimeter for elevation data, barometer to monitor weather and 3-axis electronic compass.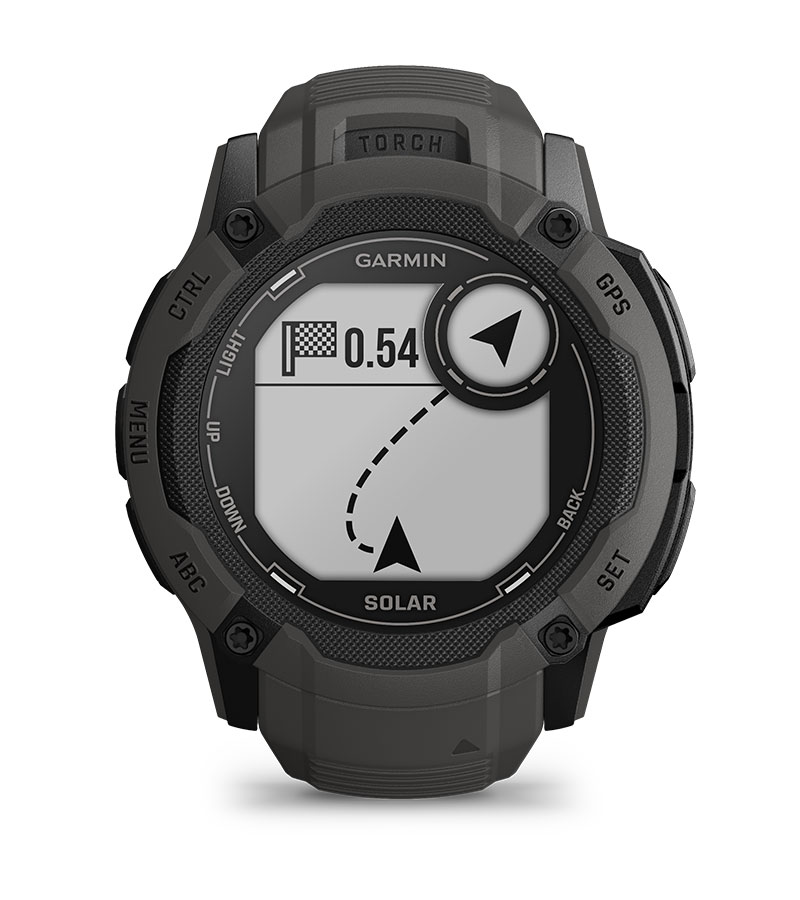 TRACBACK® ROUTING
Take the guesswork out of your return journey by using this feature to navigate the same route back to your starting point.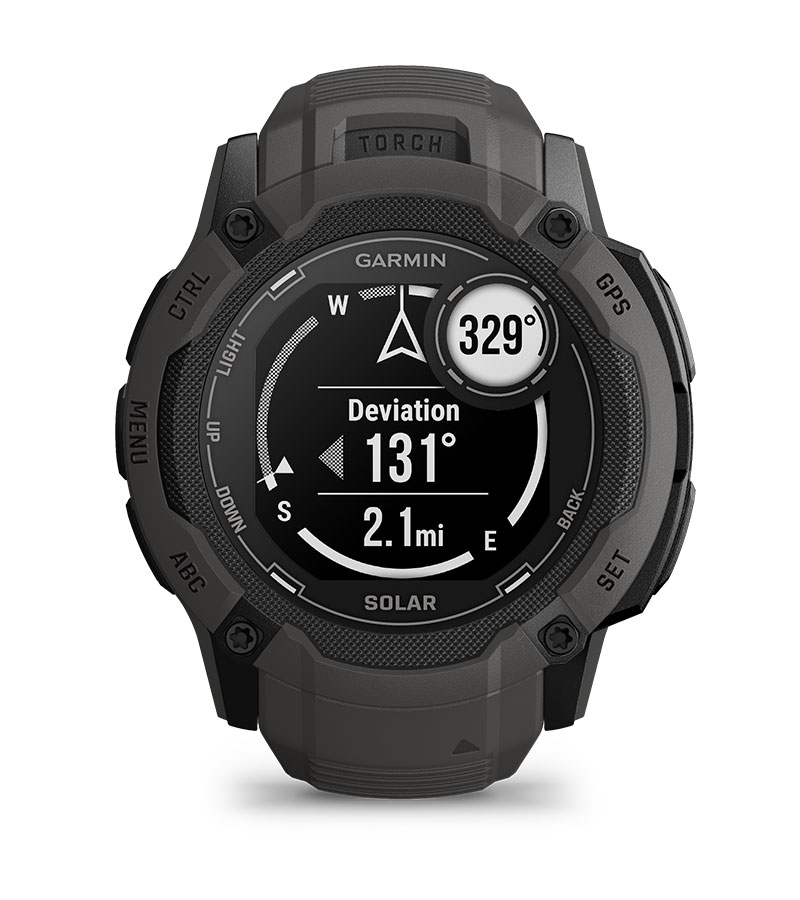 REFERENCE POINT
Keep track of a known place — such as your car or the trailhead — relative to your location, and easily find your way back to it.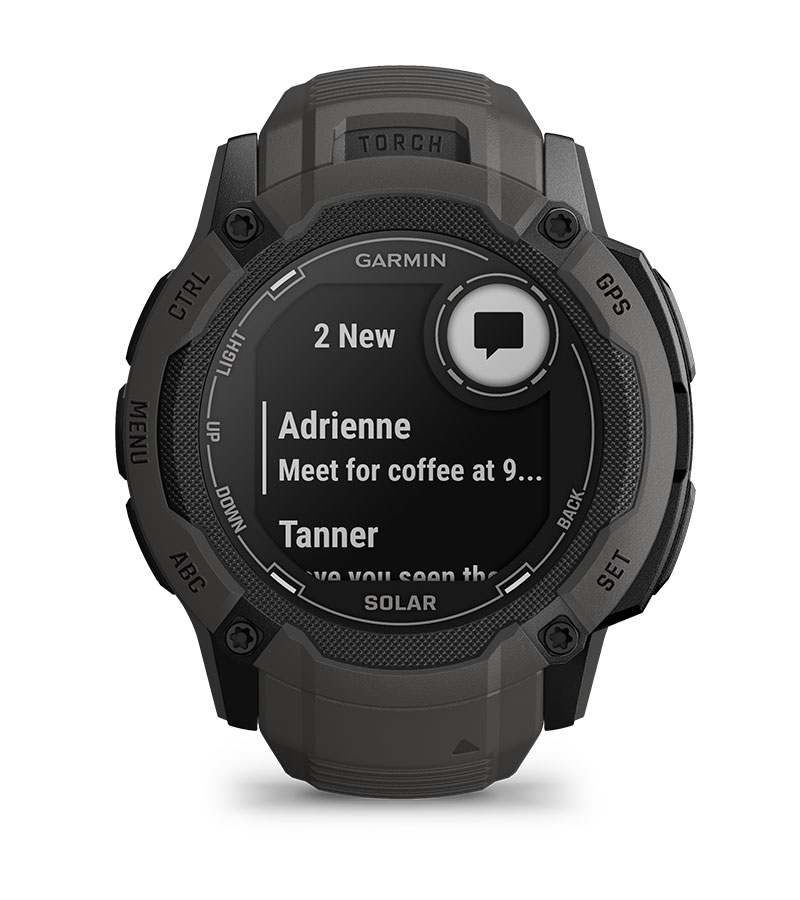 SMART NOTIFICATIONS
Receive emails, texts and alerts right on your watch when paired with your compatible smartphone.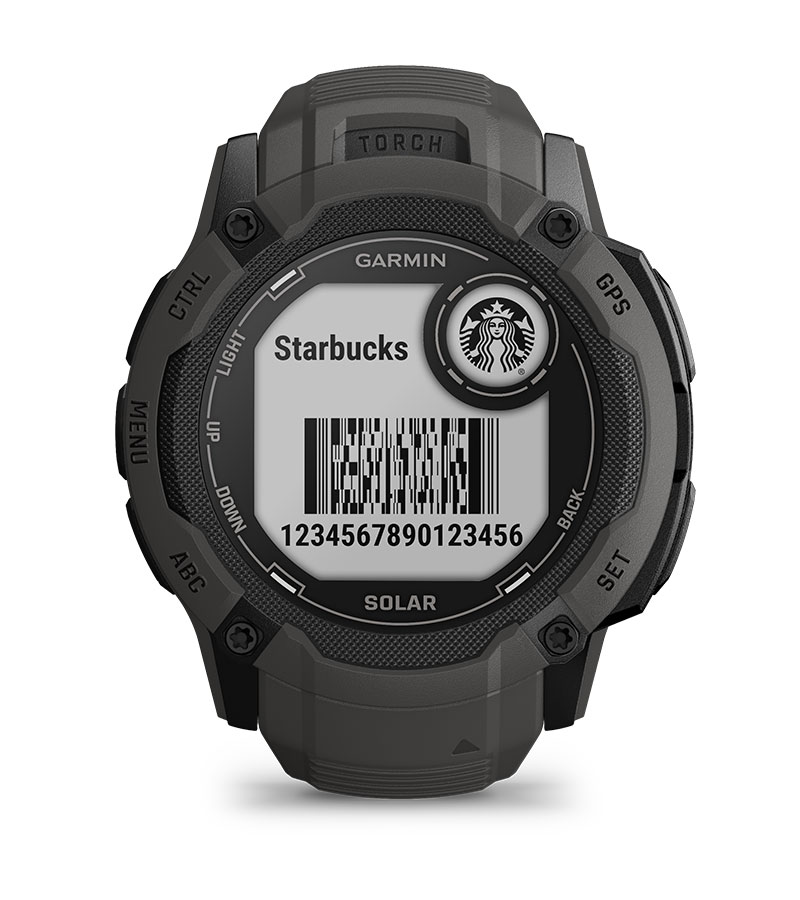 CONNECT IQ™ STORE
Download custom watch faces, add data fields, and get apps and widgets from the Connect IQ Store app on your compatible smartphone.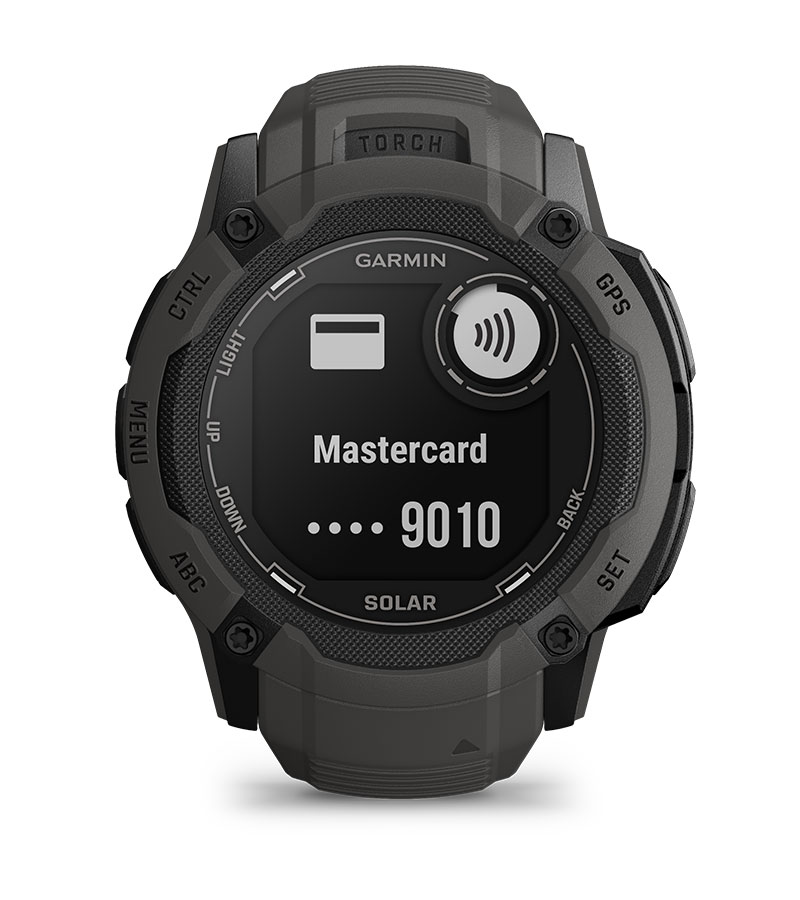 GARMIN PAY™CONTACTLESS PAYMENTS
Breeze through checkout lines and select transit systems with Garmin Pay contactless payments through participating providers.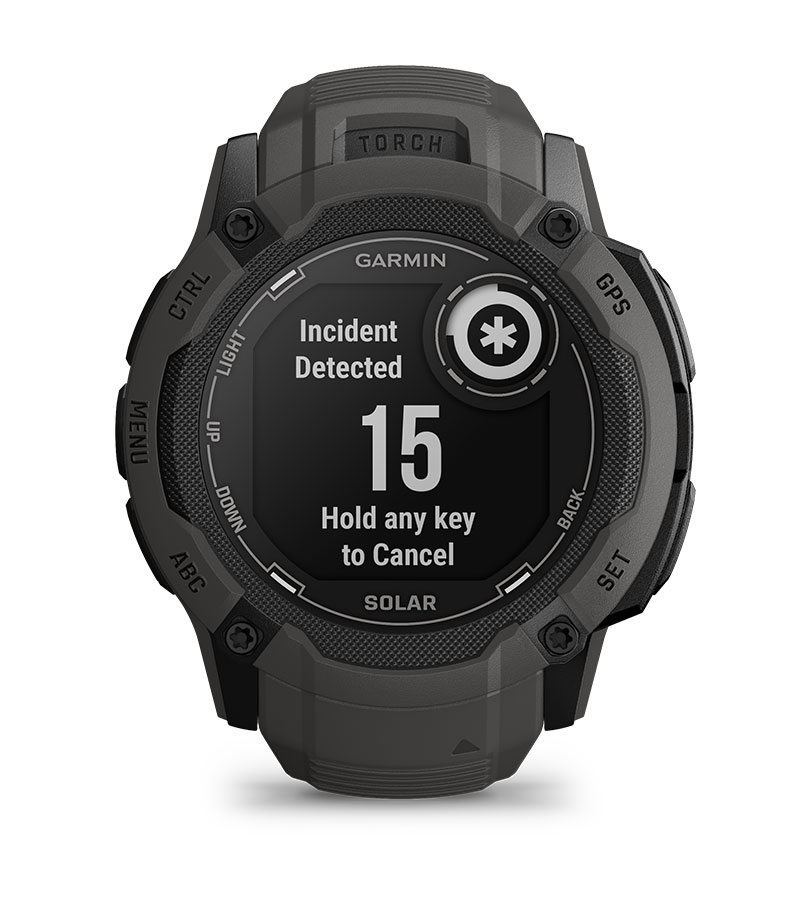 SAFETY AND TRACKING FEATURES
If you feel unsafe or if your watch senses that an incident occurred, assistance and incident detection features can send a message with your location to your emergency contacts when paired with your compatible smartphone.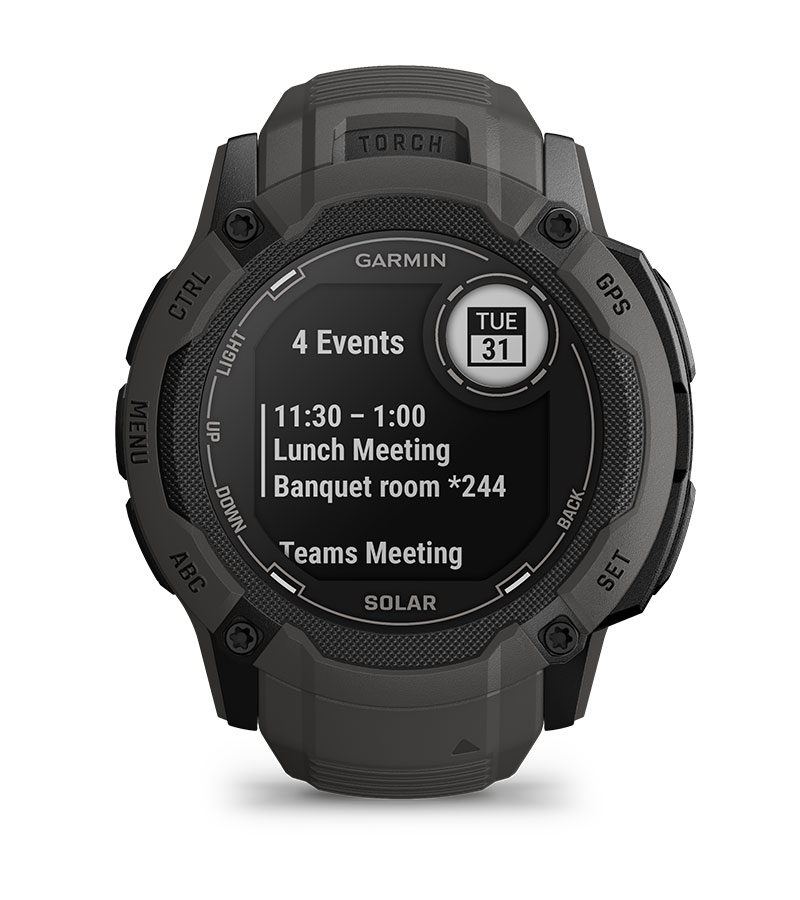 CALENDAR VIEW
Easily see your plans for the day with a dedicated calendar screen when paired with your compatible smartphone.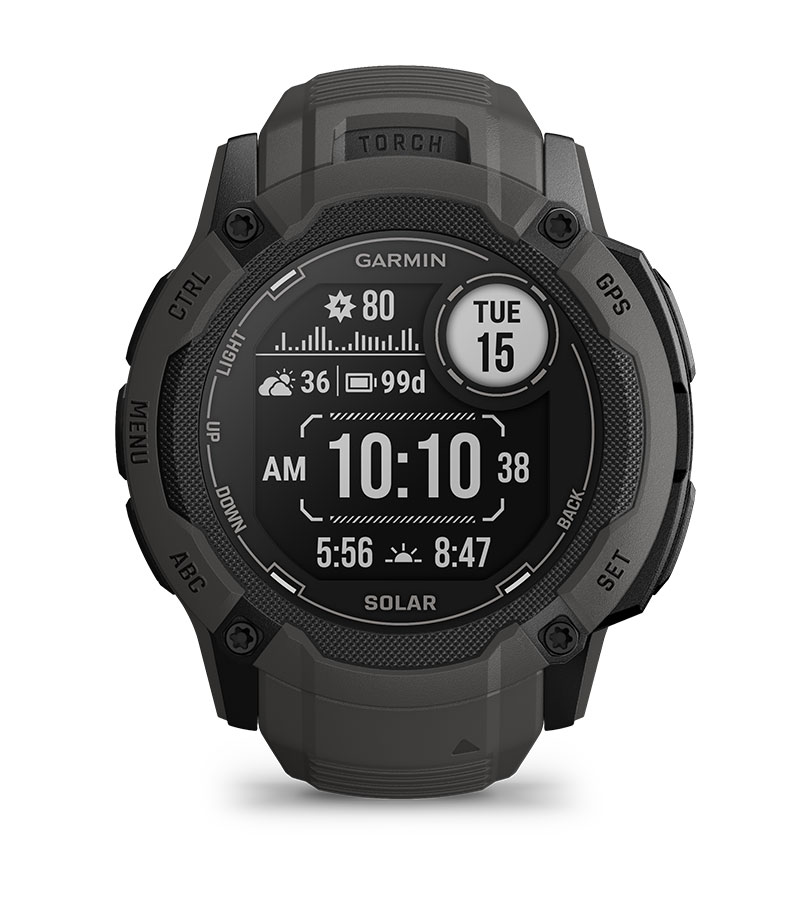 SYNC WITH THE GARMIN CONNECT™ APP
See your health and fitness information all in one place. The Garmin Connect app on your compatible smartphone is a thriving online community where people on the go can connect, compete and share.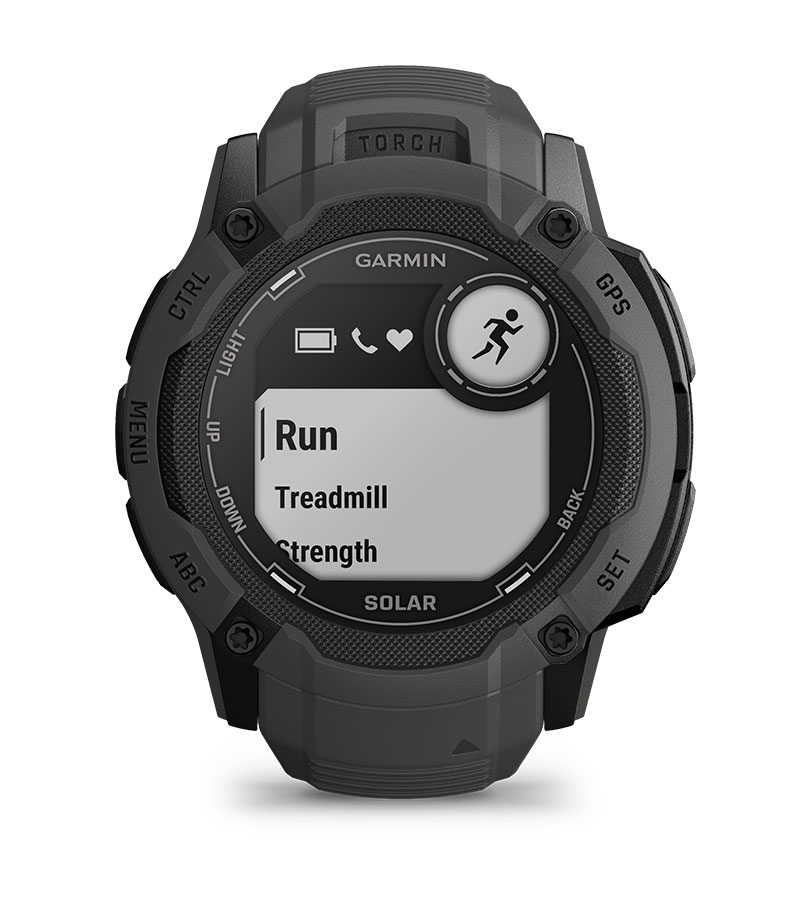 BUILT-IN SPORTS APPS
Do whatever you love with preloaded activity profiles for running, cycling, swimming, strength training, indoor climbing, skiing, snowboarding, golf, yoga, Pilates and more.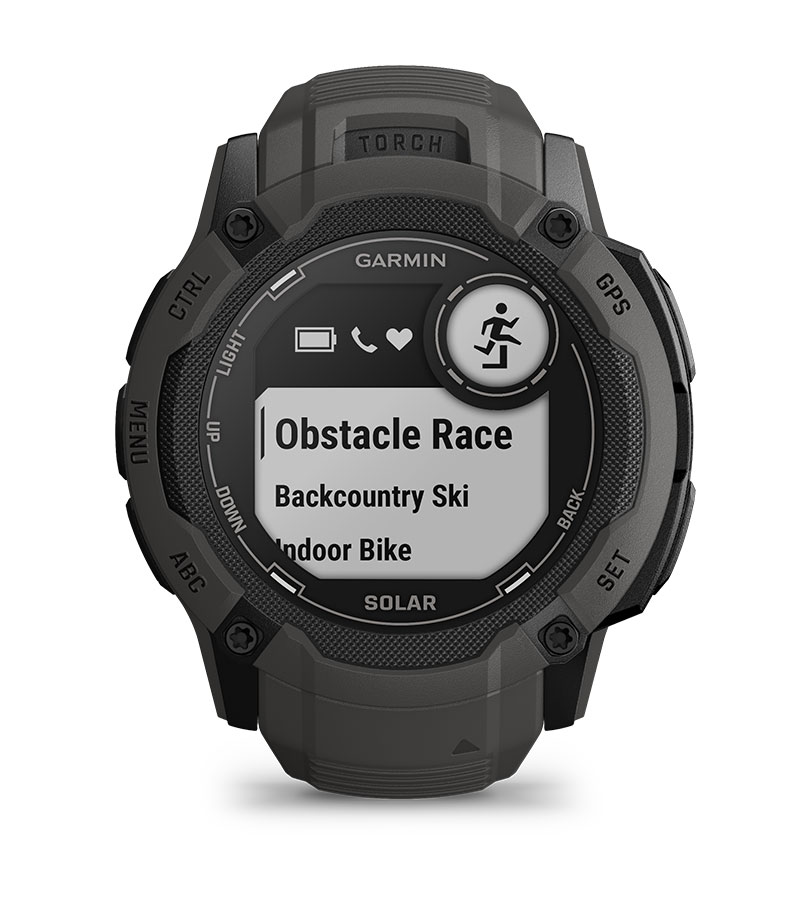 OBSTACLE COURSE RACING
Track your performance during obstacle course events — with split times recorded between running and obstacle sections while you race. After manually recording splits during your first loop, you can focus solely on the race from there as splits will be automatically recorded. Then, review your stats after the race.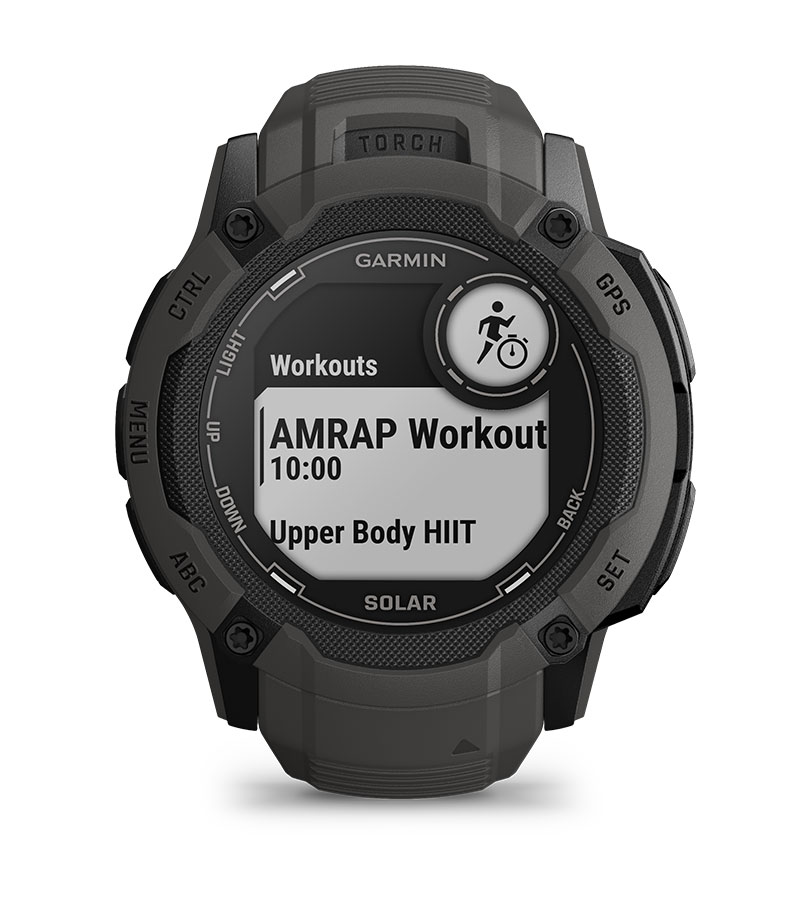 HIGH INTENSITY TRAINING WORKOUTS
This activity profile tracks your HIIT workouts, including AMRAP (as many reps as possible in a defined period of time), EMOM (every minute on the minute scheduled movements), Tabata and custom. Set the number of rounds, work/rest intervals and more.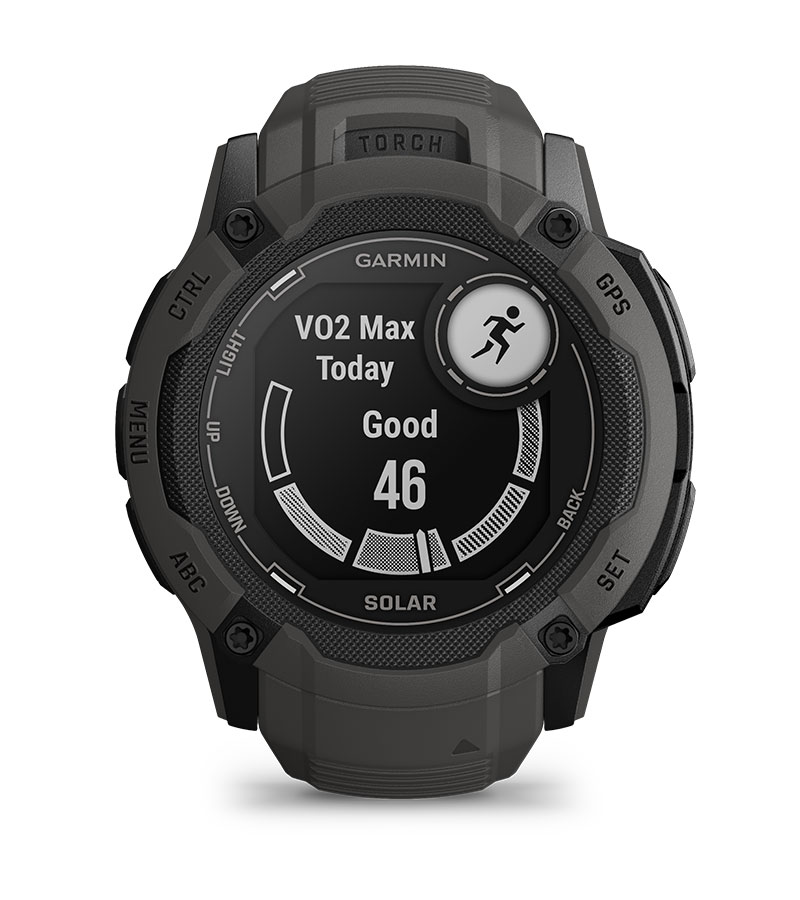 VO2 MAX
Train smarter with VO2 max, an indicator of how you can expect to perform. It even accounts for changes in performance that could be caused by heat or altitude.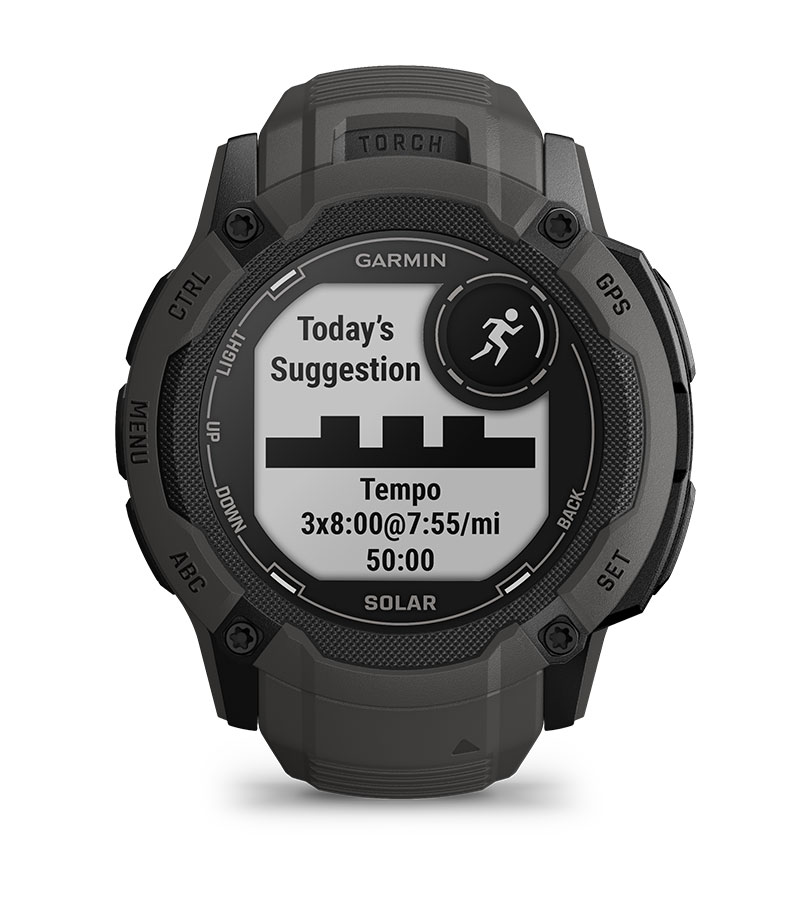 DAILY SUGGESTED WORKOUT
View your entire week of daily suggested workouts, which adapt after every run or ride to match your performance and recovery as well as the races coming up in your Garmin Connect smartphone app calendar.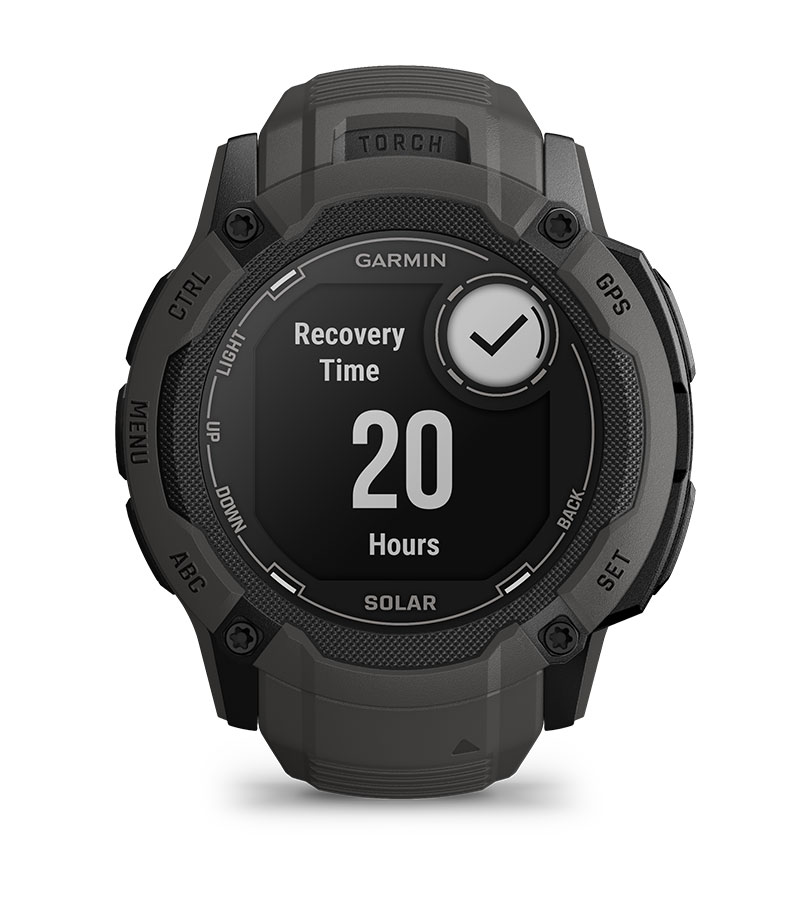 RECOVERY TIME
After each workout, recovery time lets you know when you'll be ready for another hard workout. It even accounts for training intensity and factors such as stress, daily activity and sleep.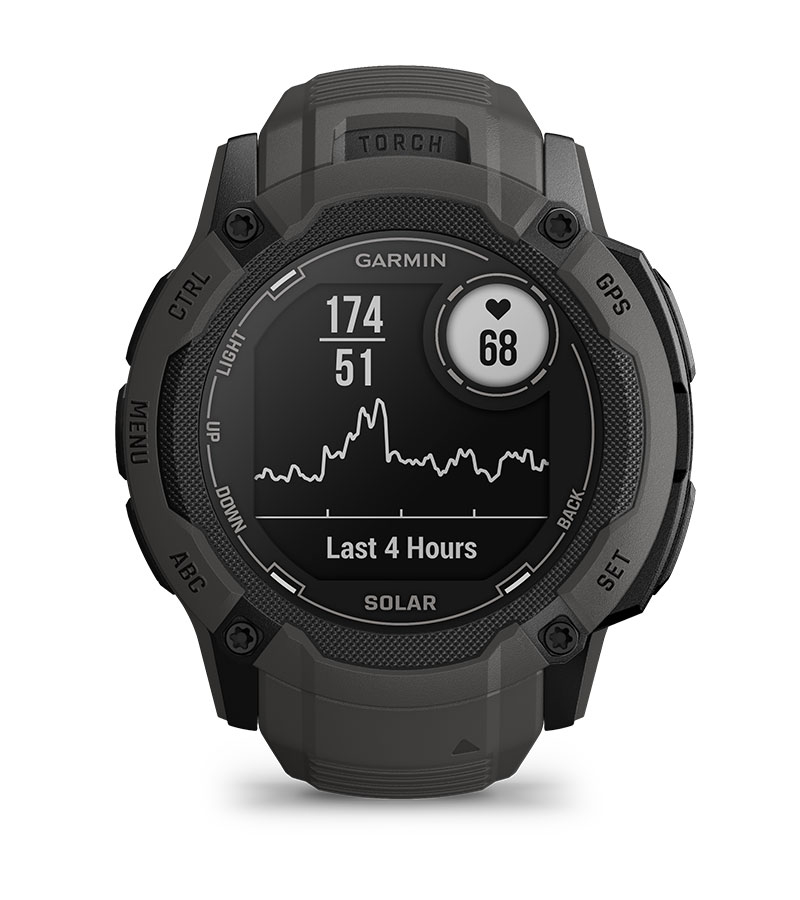 WRIST-BASED HEART RATE
Get heart rate data along with alerts if your heart rate stays too high or too low while you're at rest. Gauge how hard your heart is working during activities.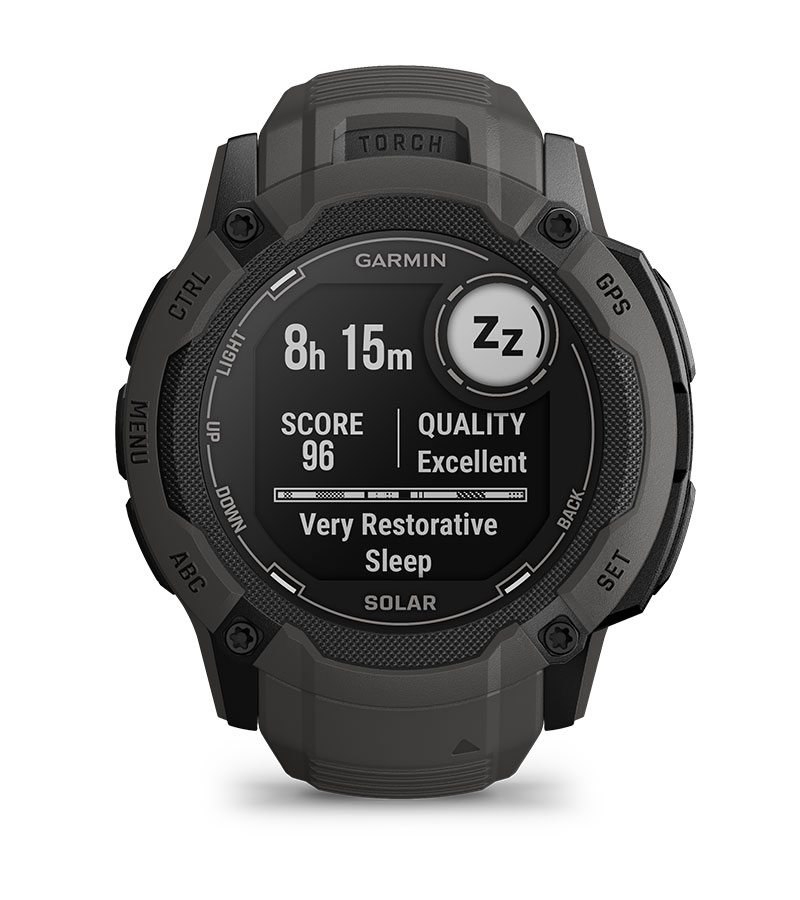 SLEEP SCORE AND ADVANCED SLEEP MONITORING
Get a full breakdown of your light, deep and REM sleep stages. View it all on a dedicated widget that includes your sleep score and insights.

MORNING REPORT
Receive an overview of your sleep, recovery and training outlook as soon as you wake up — alongside HRV status and weather. You can even customize your report to show you what you want to see.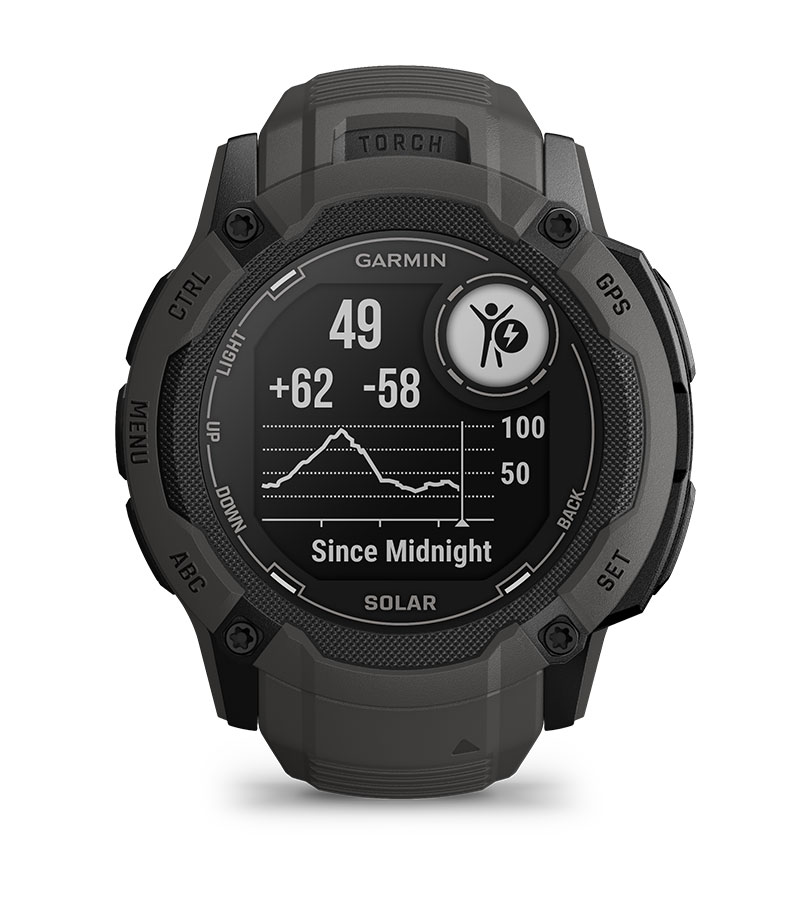 BODY BATTERY™ENERGY MONITORING
Optimize your body's energy reserves, using heart rate variability, stress, sleep and other data to gauge when you're ready to be active or when you may need to rest.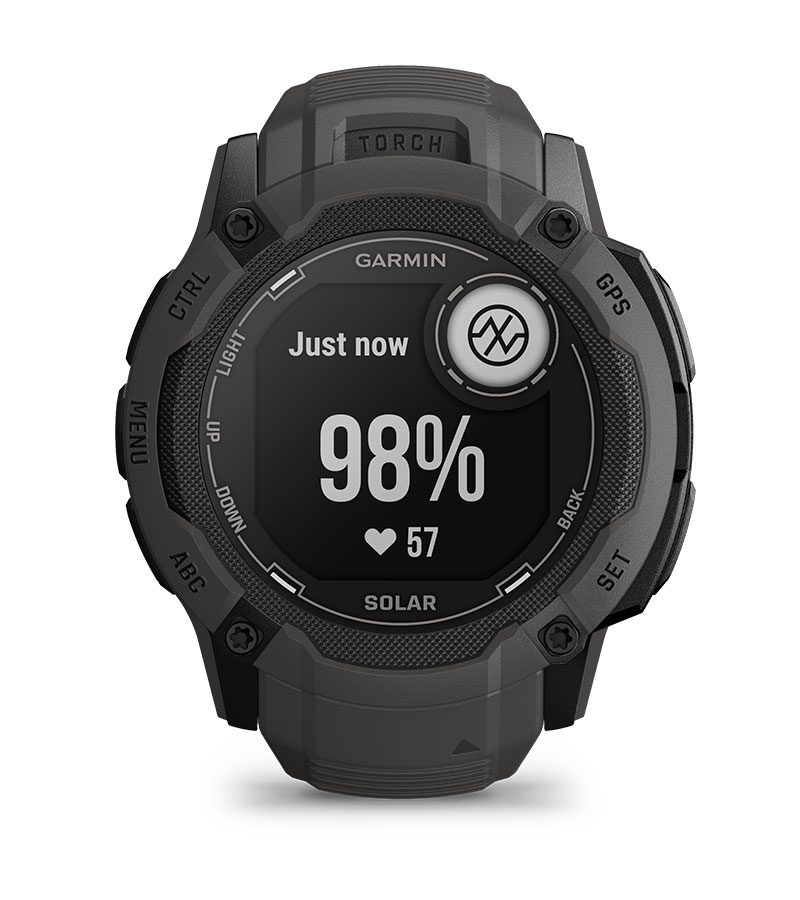 PULSE OX
For altitude acclimation or sleep monitoring, a Pulse Ox sensor uses light beams at your wrist to estimate how well your body is absorbing oxygen.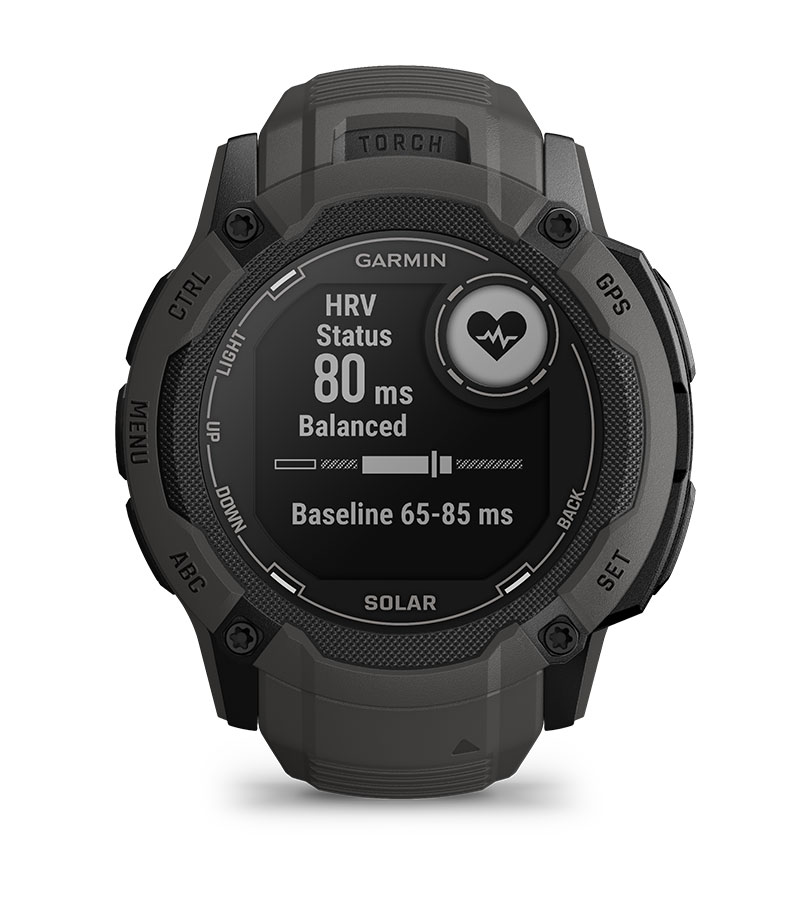 HRV STATUS
Gain a deeper understanding of your overall health, training and recovery through heart rate variability while you sleep, based on technology developed by our Firstbeat Analytics™ team.
Garmin Instinct 2X Solar Physical & Performance
Display Size
custom, two-window design; 1.1" x 1.1" (27 x 27 mm)
Display Type
monochrome, sunlight-visible, transflective memory-in-pixel (MIP)
Battery life
Smartwatch: 40 days; unlimited with solar*
GPS: 60 hours; 145 hours with solar**
All Satellite Systems: 40 hours; 65 hours with solar*
All Satellite Systems + Multi-Band: 27 hours; 36 hours with solar**
Max Battery GPS Mode: 150 hours; unlimited with solar**
Expedition GPS Activity: 60 days; unlimited with solar*
Battery Saver Watch Mode: 100 days; unlimited with solar*

*Solar charging, assuming all-day wear with 3 hours per day outside in 50,000 lux conditions
**Solar charging, assuming use in 50,000 lux conditions

Display resolution
176 x 176 pixels
GPS
Yes
Weight
67 g
Additional information
| | |
| --- | --- |
| Color | Graphite, Moss, Flame Red, Whitestone |