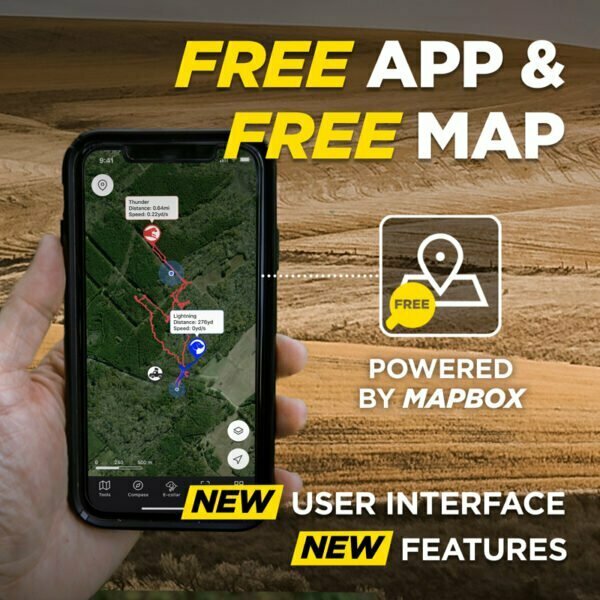 Dogtra Pathfinder 2 Mini
Earn $5.00 in Front Range Cash
$429.99
Description
The Dogtra Pathfinder 2 Mini System is designed to Track and Train your dogs.  A compact GPS dog tracking and training system featuring a newly redesigned FREE real time tracking and training app, tracking up to 21 dogs within a 4-mile range.*
The Dogtra Pathfinder 2 Mini System delivers tracking and training features in a compact form for a variety of users ranging Upland hunters, smaller dogs such as beagles and is a ideal system for daytime users.
DOGTRA PATHFINDER 2 MINI SYSTEM FEATURES:
4-Mile Range
22% Smaller than the original Pathfinder 2
Tracking up to 21 dogs – see add on Pathfinder 2 Mini Collar
New GPS Connector with E-Collar Function Button
New GPS Receiver with Pager Vibration & LED Locate Light
New Receiver Lock Mode
New Sleep Mode
New GPS Connector Locate Tone
Fits 11-22″ Neck Size
Nick, Continuous Nick & HPP Vibratiion
New Fence Modes: Mobile-Fence, Geo-Fence and NEW E-Fence 
NEW FREE PATHFINDER 2 APP:
Track and train your dog from your phone
No Monthly Subscription
No Signal Required & Offline Maps
APP REQUIREMENTS:
iOS 12.1 or Android 6.0 and above and devices must include Bluetooth 5.0 and up.
Requires a PATHFINDER2 Series system to operate.
COMPATIBILITY:
Only compatible with PATHFINDER2 Series Systems.
WHAT'S NEW:
NEW PATHFINDER 2 MINI SYSTEM FEATURES:
4-Mile Range
New GPS Connector with E-Collar Function Button
New GPS Receiver with Pager Vibration & LED Locate Light
New Receiver Lock Mode
New GPS Connector Locate Tone
New E-Collar Functions: Pager Vibration & LED Locate Light
New USB 5V Charger
NEW PATHFINDER 2 APP FEATURES:
New FREE PATHFINDER2 App with updated user interface

 New Smart Watch compatibility:

Now available on Samsung Galaxy Watch 4 Series
Apple Watch Series 5 and above

Free maps powered by MapBox
New Fence Modes: Mobile-Fence, Geo-Fence and NEW E-Fence 
3.5 Hour Rapid Charge Battery
PATHFINDER 2 FIRMWARE UPDATE