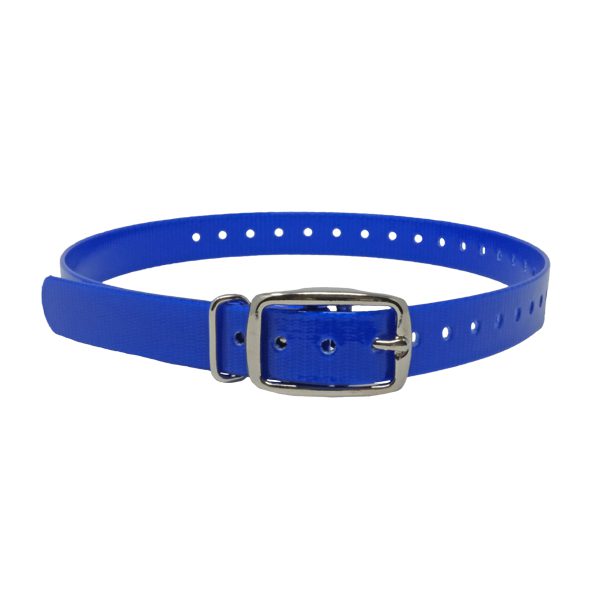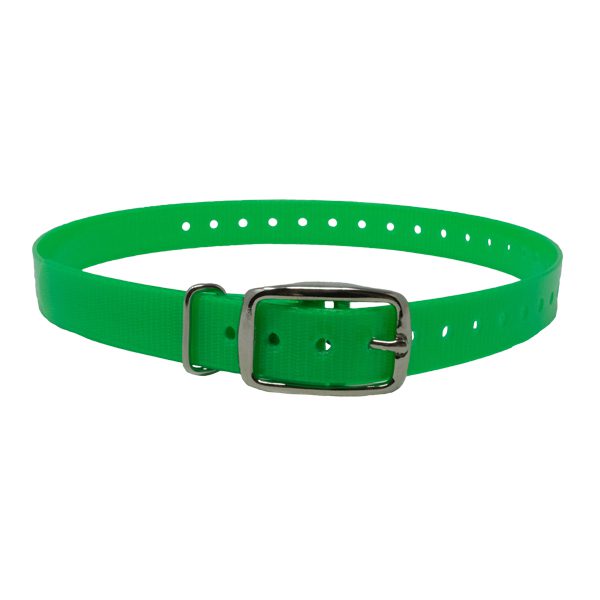 3/4″ Universal Replacement Strap with Keeper

$8.00

Made In USA
Description
Reviews (0)
Features
Description
The 3/4″ Universal Replacement Strap with Keeper has a Round Buckle and is made from a coated polyester webbing and includes nickel plated hardware.  The polyurethane coating makes the collar water-resistant, protects from abrasions and soil, provides a UV protection against fading and makes it easy to clean. You can simply wash with soap, rinse with water and wipe with a cloth.
The 3/4″ Universal Replacement Strap with Keeper is constructed with heavy duty rivets and nickel plated steel hardware.  This collar will last for many seasons in the field.
This universal cut collar measures 28″ in length and fits neck sizes from 10″ to 24 1/2″.  This cut to fit 3/4″ Universal Replacement Strap with Round Buckle and Keeper has 30 holes of adjustment spaced every 1/2″ from 10″ to 24 1/2″, so it can be sized to comfortably fit your dog.
The 3/4″ Universal Replacement Strap with Round Buckle and Keeper is compatible with the following E-Collar systems:
Features
Polyurethane coating
Rugged and Waterproof
High Flexibility
30 Tightly Spaced Holes allow =Perfect fit
3/4″ inch wide Hi Flex Biothane Webbing
Approx 28″ long
Heat-Sealed Ends and Holes
Nickel-Plated Hardware
Round Buckle with Keeper
Maintenance Free
Easy to clean
Resists mildew and bacteria
Odor resistant
Choose Black, Red, Blue, Pink, Orange, Neon Yellow, Neon Green, and Teal
Made in the USA
Sizing:
Total length from center of buckle is 28″
Smallest size – First hole from center of buckle measures 10″
Largest size – Last hole from center of buckle measures  24 1/2″
There are a total of 30 holes for adjustment
The collar receiver may take up a few inches of the mounted 3/4″ inch High Flex Universal Strap, so neck sizing will vary with the application.
Available in 8 vibrant colors – Black, Blue, Neon Green, Neon Yellow, Orange, Pink, Red and Teal.
Advantages of Hight Flex TPU (thermoplastic polyurethane) coated webbing:
Excellent chemical and abrasion resistance
High UV stability
Excellent mechanical properties for extreme weather conditions
About BioThane®
BioThane® is an Ohio based company focused on coated webbing products that utilizes progressive engineering, research and development. Since 1977, BioThane® has established a leadership position in the coated webbing industry through best in class product innovation.
All BioThane® products are Prop 65, REACH and CPSIA compliant.  Read more about BioThane® Regulatory Standards here.
Convenient D ring at roller buckle
Polyurethane coating
Rugged and Waterproof
High Flexibility
30 Tightly spaced Holes allow perfect fit
1″ inch wide
Approx 29″ long (not including roller buckle)
Heat-sealed ends and holes
3 smooth, flat rivets
Nickel-plated Hardware
Roller Buckle
Maintenance free
Easy to clean
Resists mildew and bacteria
Odor resistant
Choose Black, Red, Blue, Pink, Orange, Neon Yellow, and Neon Green
Made in the USA