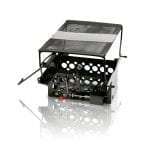 Dogtra QL2 Bird Launcher
Earn $1.40 in Front Range Cash
$139.99
Description
Reviews (0)
Features
Description
The Dogtra QL2 Bird Launcher is a great tool when training your dog to point or flush, because it is essential to build positive association of proper bird exposure during field training. The Dogtra Bird Launchers coupled with our RR Deluxe electronics are the perfect tools to control exactly when the bird takes flight. This lessens the chance of birds being caught on the ground by an enthusiastic puppy.
The Dogtra QL2 Bird launcher is designed for Quail and Barn Pigeon sized game birds. The Dogtra QL2 Bird Launcher features a vented launcher for maximum air flow to enhance scent distribution, making it easier for your dog to wind the bird in the launcher. Patented adjustable spring tension allows adjustment of throwing height and makes for a very quiet launch, a real must for starting a shy dog on birds.
RR Deluxe electronics (receiver and transmitter) are needed to operate either PL or QL2 launchers and are sold separately.  All PL or QL2 "Add-On" launchers require model receiver D-RCV sold separately.  A total of up to 16 PL and QL2 launcher/receiver combos can be controlled by a single transmitter.
Description of Bird Launcher Parts
Bird cradle: Bird cradle holds a dummy or bird for launching.

Cradle bar: Cradle bar supports a bird cradle.

Launcher box: Launcher box contains large holes for maximum air flow and scenting possibilities.

Solenoid: Solenoid activates the launcher by pulling the latch when the launcher button is pressed.

Latch: Latch holds the bird cradle closed when it is set for launch.

Safety pin: Insert safety pin to the hole in the latch to prevent the bird launcher launching accidentally.

Release lever: Release lever holds bird cradle when it is set for launch.
Read more about how the Dogtra QL2 Bird Launcher integrates with the Dogtra RR Deluxe System Owner's Manual.
Model: D-QL2
Manufactured by: Dogtra
Adjustable Spring Tension for Throwing Height
Dimensions QL = 8.6″ x 4.5″ x 4.3″ PL = 13.2″ x 6.9″ x 6.9″
Maximum Air Flow for Scent Distribution