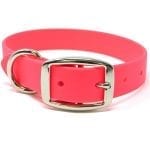 K-9 Komfort 1 Inch TufFlex Pink D Ring Collar

$17.99
Free Brass Nameplate riveted to collar.
Proudly Made in the USA
Description
The K-9 Komfort 1 Inch TufFlex Pink D Ring Collar has the feel of soft leather with the added benefits of being waterproof, odor resistant and cleans up easily with a damp sponge. The PVC coating over the high strength nylon webbing core allows this collar to remain soft and flexible down to -20 degree temps. The in-line riveting design coupled with the solid nickel plated steel hardware make this collar virtually indestructible.
Free Brass Nameplate with Easy to Read Characters
Our nameplates are 0.8 mm thick cartridge brass.
Each character is engraved to a depth of 0.3 mm and filled with a black resin so the information is easy to read.
We are able to engrave any character found on your keyboard.
Line 1 has 20 Characters Limit Including Spaces.
Lines 2 and 3 have 17 Characters Limit Including Spaces (shortened by the rivet head on each side).
Line 4 has 20 Characters Limit Including Spaces
All nameplates are press riveted with solid brass 104 tubular rivets and end caps.
The 1″ collar nameplate measures 2 3/4″ long and 3/4″ high.
The 3/4″ collar nameplate measures 2 3/4″ long and 5/8″ high.
We customize the tag with any info you like, although the most popular information is:
Your Name
Your City & State
Phone #
Phone #
About K-9 Komfort
Family owned and operated since 1980,  K-9 Komfort has been manufacturing pet products using only the highest quality materials with skilled craftsmen right here in the USA.  K-9 Komfort selects quality materials with known components to protect your best friend while training, hunting in the field or just taking a walk through the neighborhood.  
Measure the Size of Your Dog's Neck
Use a flexible measuring tape or a piece of string to measure.
Measure the circumference of the neck where the collar will rest.  Allow for appropriate tightness with this measurement.
With the number from this measurement, refer to the sizing chart below to determine the correct size collar.
There are 5 adjustment holes on a collar, each representing 1″ of adjustment.
Choose the collar size that best matches your measured length to the middle hole of the collar.
Sizing Options
The K-9 Komfort 1 Inch TufFlex Pink D Ring Collar is matched to go with the K-9 Komfort TufFlex Pink Lead 3/4 in. by 4.5 ft and 6 ft.