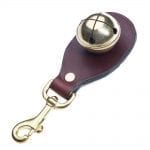 Mendota Leather Snap Bell
Earn $0.48 in Front Range Cash


Proudly Made in the USA
Description
The Mendota Leather Snap Bell lets you know where your dog is at all times. Just snap it to the D-ring on your dog's collar and the solid brass sleigh bell will ring clearly whenever your dog is moving.
Mendota Leather Snap Bell Dimensions: 1 3/4″W x 5″H
Sleigh Bell Diameter: 1 1/8″
Weight:  2.4 oz.
See the K-9 Komfort 1 Inch Mahogany Deluxe Leather Center Ring Collar to add to you Leather snap bell.