The Garmin Alpha 10 TT 15X Bundle provides more flexibility on the hunt to track and train.  The compact Alpha 10 handheld can be used on its own, connected to your compatible smartphone, or connected to other Garmin dog tracking devices.  The compatible Garmin Dog Devices are: TT 15X/TT 15/T 5X/T5 have up to 9 miles of range, while the TT 15 Mini and T 5 Mini collars have up to 4 miles of range.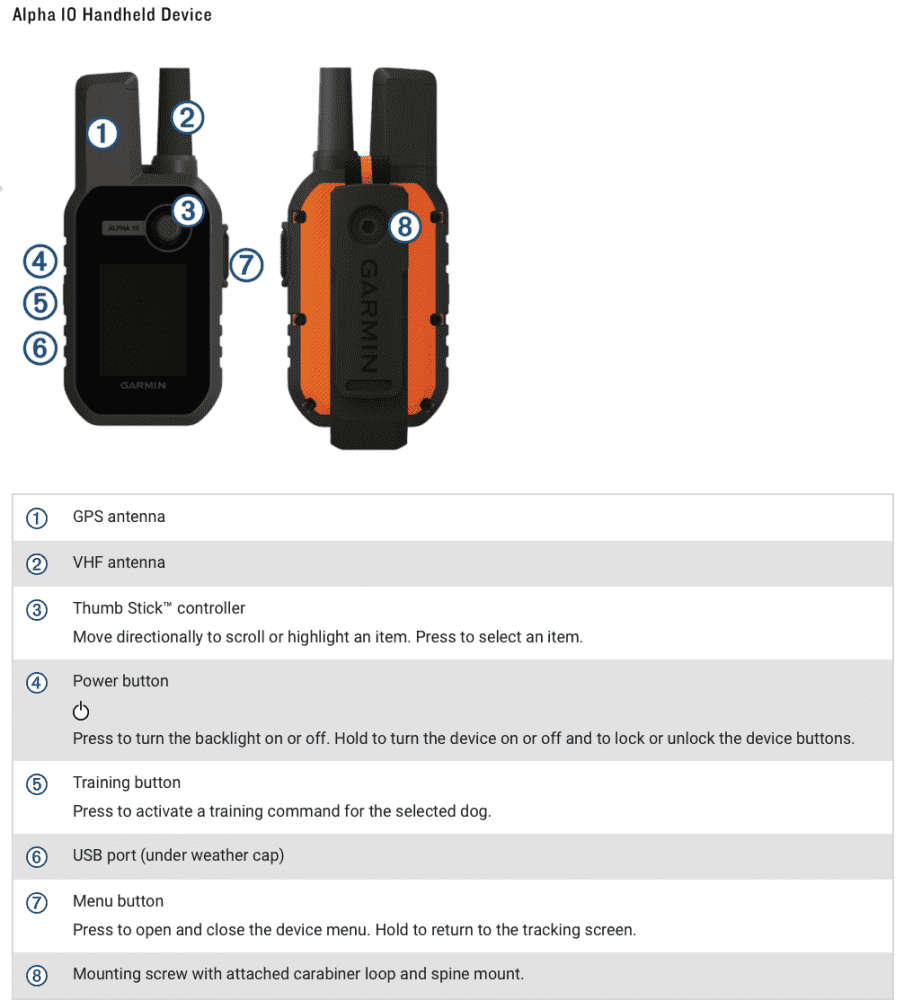 Garmin Alpha 10 Features:
Compact design: Physical Dimensions: 2.3″ x 4.8″ x 1.1" Weight: 5.6 oz
At-a-glance, multi-GNSS tracking and configurable training.
Compatible with Garmin Fenix and Instinct GPS watches for quick tracking updates on your wrist
Track and train up to 20 dogs
Compatible with Garmin Collars: TT 15x/TT 15/T 5X/T 5 = up to 9 miles range; TT 15 Mini/T 5 Mini = up to 4 miles range
TT series collars are for both Tracking and Training, while the T series collars are for Tracking only.
Store customized training for each dog with 18 levels of continuous and momentary stimulation plus tone and vibe.
Tone and vibration options can be applied for on point alerts.
Create New Hunt Menu Item allows you to mark your vehicle location and have it appear on the compass screen showing both distance and direction.  You always know where you parked.  It shows up just like a dog pointer and is present along with all activated dogs.  We use this feature on every hunt, especially when hunting new ground!
Key New Features and Benefits of the Upgraded TT 15X:
NEW: Battery Life – Double the battery life (up to 80 hours) when compared to existing TT 15 full size dog device collars. (20-40 hrs)
NEW: Sleep Mode – for extended battery during long hunts (Sleep Mode available on Alpha 10, 100, 200 & 200i units – not available on Pro 550 Plus or Astro 430)
NEW: Easier Updates – complete your updates on Macs or PC; TT 15X updates on Garmin Express
TT 15X utilize the existing hardware of current generation full size dog device collars but bring important improvements with electrical and software updates.
TT 15X collars are for Tracking & Training – Same great usable range performance – up to 9 miles
Compatible with current Astro 430 (tracking only), Pro 550 Plus and Alpha family handhelds (tracking & training available)
When you're on the move, this compact GPS device won't weigh you down.
Know your dog's location, wherever the hunt takes them.
Always on the go? Mount Alpha 10 in your truck or anywhere else to keep it close.
It's up to you. Use Alpha 10 on its own or with other dog tracking devices.
See your dog's location from the driver's seat of your truck or even from your wrist.
Stay on the hunt for longer with up to 1 week of battery life (40 hours of use).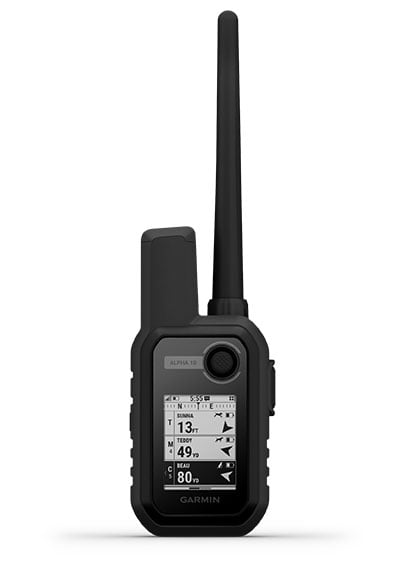 TRACK YOUR PACK
The Garmin Alpha 10 Hand Held Transmitter works with the TT 15X/TT 15/ TT15 Mini and T 5X/T 5/T 5 Mini dog devices to monitor up to 20 dogs from up to 9 miles with a 2.5-second update rate.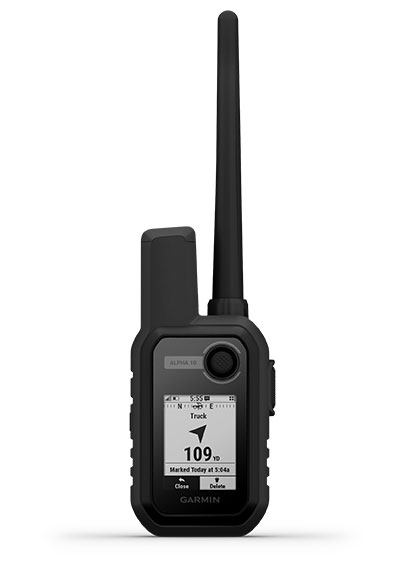 MULTI-GNSS SUPPORT
Access multiple global navigation satellite systems (GPS and Galileo) to track in more challenging environments than GPS alone.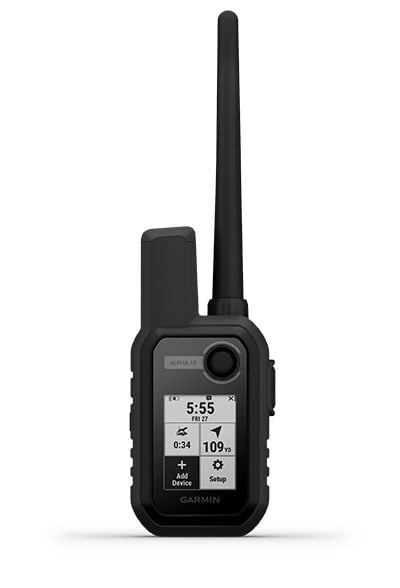 HUNT-READY BATTERY LIFE
With up to a full week's worth of battery life, you'll stay charged and ready for action, even on multiday trips.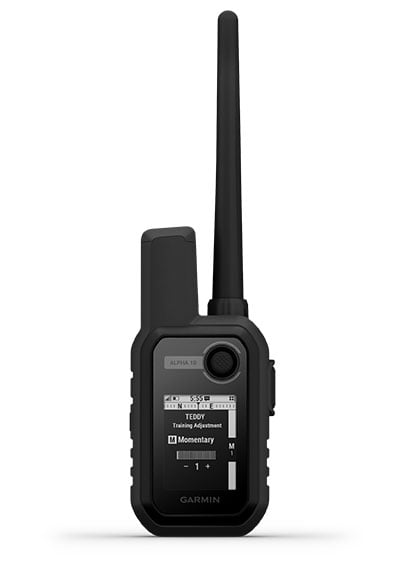 18 LEVELS OF STIMULATION
Momentary and continuous stimulation options let you customize training for each dog (when paired with select dog devices).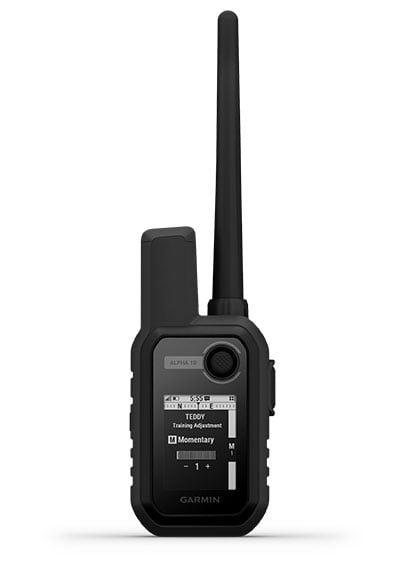 TONE/VIBRATION
Issue different levels of audible tone or vibration commands for quick adjustments to individual dogs (when paired with select dog devices).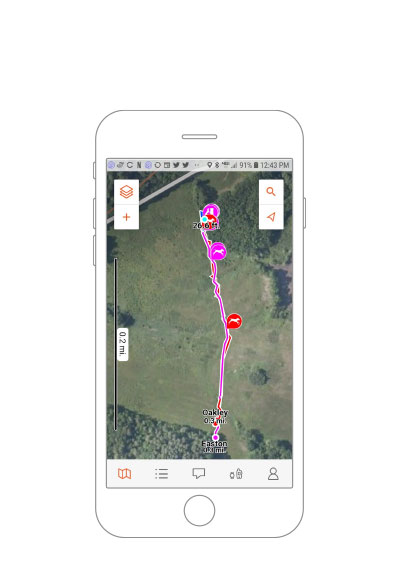 GARMIN EXPLORE™ APP
Pair with the Garmin Explore app on your compatible smartphone to see real-time dog tracking information, save collections of dog tracks and replay tracks to see exactly what happened during your hunt.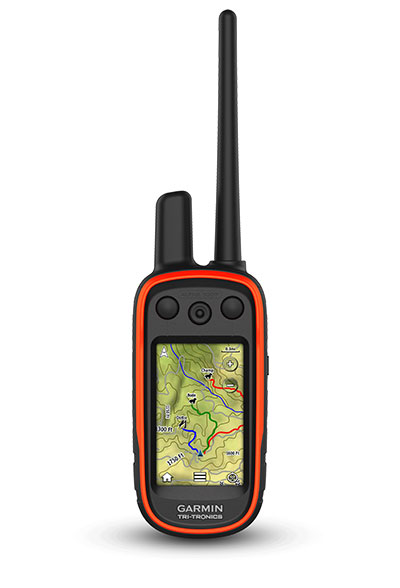 FOLLOW THE ACTION
Track fellow hunters by pairing Alpha 10 with other compatible Alpha and Astro® handheld devices.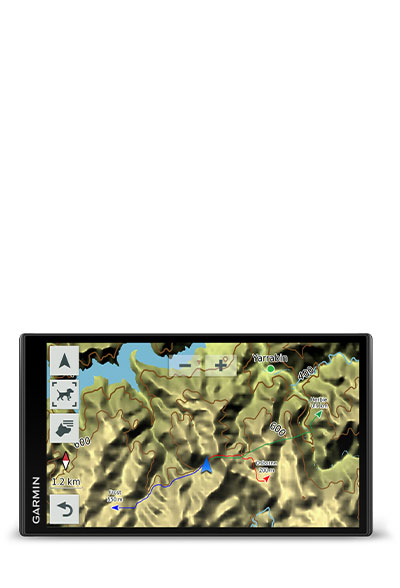 MORE WAYS TO TRACK ON THE GO
See the pack's location from your vehicle with the Garmin DriveTrack™ 71 navigator — or from your wrist with your Instinct®or fēnix® GPS watch.
Garmin Alpha 10 TT 15X Bundle In the Box:
Alpha 10 handheld
Spine mount with wrench kit
Carabiner clip
Belt clip
microUSB cable
Documentation
Garmin TT 15X dog device with rechargeable lithium-ion battery
1-inch collar strap
Charging clip
AC adapter
Vehicle power cable
Contact point set with wrench
Garmin TT15X Dog Device Manual

To learn more about the Garmin TT 15X Dog Device features read the Owner's Manual.
The Garmin TT 15X Dog Device is a top-mounted, high-sensitivity GPS/GLONASS receiver, that uses 18 levels of continuous and momentary stimulation, plus audible tone and vibration activated from the Alpha 200i, Alpha 200, Alpha 100, Alpha 10 or the PRO 550 Plus. The TT 15X is also compatible with Astro 430 for tracking only.  You can remove the contact points and apply the included cover plate to remove the training hardware from the collar if specific activity requires tracking only use.
Rugged and water-resistant to 10 meters, the tracking and training dog device with collar is tough enough to run wherever your dog runs, up to 9 miles away. The stimulation features let you train each dog separately — traditional stimulation allows you to make quick changes (low, medium or high) within a predetermined stimulation level (1-6), whereas linear stimulation allows progressively more stimulation from levels 1 to 18. You can remotely operate the LED beacon lights, built in to the dog device, to help locate your dog in low-light conditions.
Cartridge Brass Nameplate with Easy to Read 3/32″ Characters
Lines 1-8 have 17 characters maximum including spaces.
Nameplates only use the following characters: 0, 1, 2, 3, 4, 5, 6, 7, 8, 9, A, B, C, D, E, F, G, H, I, J, K, L, M, N, O, P, Q, R, S, T, U, V, W, X, Y, Z, –
Nameplates are made from cartridge brass.
The nameplate measures 2 3/4″ long and 1 1/4″ high.
All nameplates are finished with a black Laquer-Stik fill-in-paint to emphasize the characters.
We customize the tag with any information, provided you use the characters listed above. The most popular information is:
Line 1:  Your Name
Line 2:  Your City & State
Line 3:  Home phone
Line 4:  Cell phone
Lines 5-8: Additional Information
Features
18 levels of continuous and momentary stimulation – plus audible tone and integrated LED light beacons.
TT 15X collar is equipped with a top-mounted, high-sensitivity GPS and GLONASS receiver for increased signal reception.
Replaceable 1-inch collar strap.
Rechargeable Li-ion batteries with a battery life of approximately 80 hours depending on update rate.
Dog rescue mode switches TT 15X to a slower update rate to prolong battery life.
Rugged and waterproof design (10m).
Includes 2 lengths (long and short) of removable, stainless steel, insulated contact points for reliable performance in wet conditions and extended comfort for any coat length.