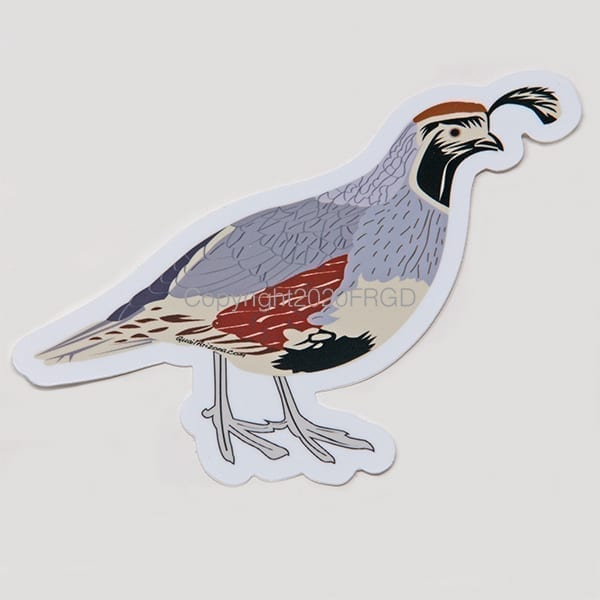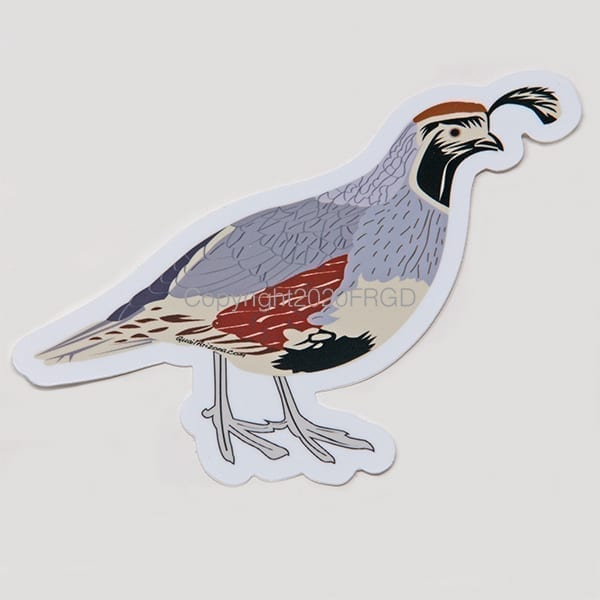 Gambel's Quail Sticker
$3.00
Proudly Made in the USA
Note: Sticker image has a protected watermark.  The actual sticker does not include a watermark.
Description
Our Gambel's Quail sticker is a fun way to express your lifestyle.  This is an artistic hand drawn rendering of the Gambel's Quail.  This sticker measures 4.5″ wide and 5″ tall and has a UV laminate to prevent fading and is also waterproof.  The Gambel's Quail Sticker has proven to not fade for three years plus in the Arizona sun.
Gambel's Quail Sticker Features:
Measures 4.5″ wide and 5″ tall
UV laminate to prevent fading
Waterproof
Die cut for a clean edge
Information about Gambel's Quail:
Description:
Gambel's quail (Callipepla gambelii) is a small ground-dwelling bird in the New World quail family. It inhabits the desert regions of Arizona, California, Colorado, New Mexico, Nevada, Utah, Texas, and Sonora; also New Mexico-border Chihuahua and the Colorado River region of Baja California. The Gambel's quail is named in honor of William Gambel, a 19th-century naturalist and explorer of the Southwestern United States.
Food:
Gambel's quail are primarily herbivorous, but insects are important seasonally. Gambel's quail diets vary considerably throughout the species' range, but generally consist of seeds gleaned from forbs, shrubs, trees, and cacti. Seeds from legumes are important throughout their range. Fruits from shrubs and cacti, particularly pricklypear (Opuntia spp.), are important food items. Green vegetation, especially New Mexico lotus (Lotus neomexicanus) filaree or storks bill, stickleaf (Mentzelia spp.), and twinleaf senna (Senna bauhinioides), are very important during winter and early spring months before reproduction.  They provide much of the quail's moisture requirements. Like other quail, insects are important, especially for the growing young. Mesquite seeds and leaves, mustards (Brassicaceae), ragweeds, sumac, acacia, tumbleweed, and a host of other native seeds produced by shrubs and forbs are consumed if available.