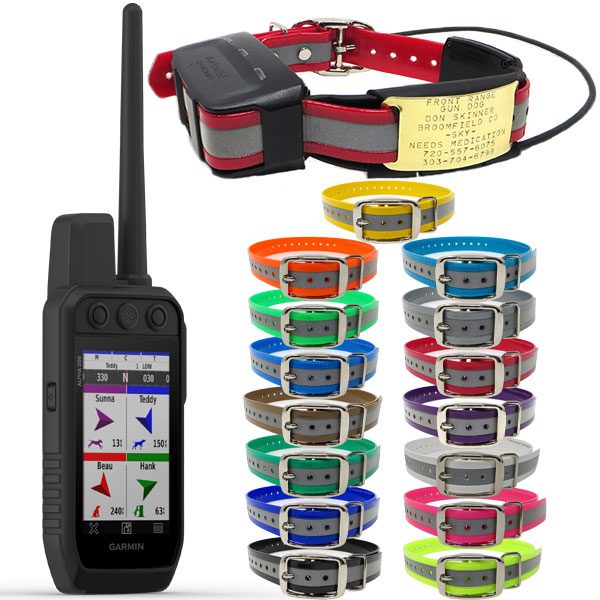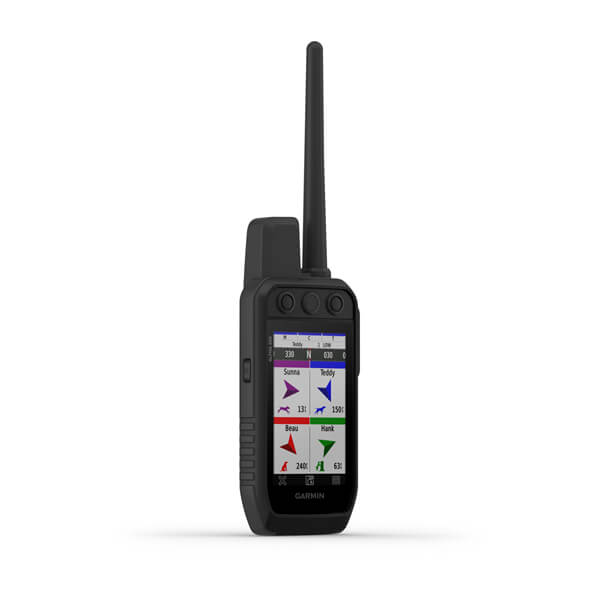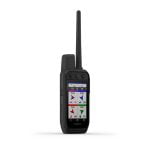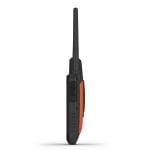 Garmin Alpha 200 TT 15X Bundle
The Alpha® 200 dog tracking and training system features a sunlight-readable 3.5" touchscreen display.  Bundle includes Garmin 200 Handheld, Garmin TT 15X Dog Device and color choice of e-collar reflective strap and an e-collar nameplate.
Free USPS Priority Mail Shipping
Compatible with Garmin Collars: TT 15X/TT 15/T 5X/T 5 = up to 9 miles range; TT 15 Mini/T 5 Mini = up to 4 miles range
Description
Garmin Alpha 200 TT 15X Bundle dog tracking and training system lets you monitor up to 20 dogs from up to 9 miles (compatible with Garmin Collars:
TT 15X
/TT 15/T 5X/T 5 = up to 9 miles range; TT 15 Mini/T 5 Mini = up to 4 miles range) on a 3.5" display with a 2.5-second update rate. Easily control training functions by using the button-operated, dog-focused design. You'll also have access to premium Garmin navigation features, such as preloaded TopoActive maps, BirdsEye Satellite Imagery with direct-to-device downloads and built-in three-axis compass and barometric altimeter.
Create New Hunt Menu Item allows you to mark your vehicle location and have it appear on the compass screen showing both distance and direction.  You always know where you parked.  It shows up just like a dog pointer and is present along with all activated dogs.  We use this feature on every hunt, especially when hunting new ground!
Key New Features and Benefits of the Upgraded TT 15X:
NEW: Battery Life – Double the battery life (up to 80 hours) when compared to existing TT 15 full size dog device collars. (20-40 hrs)
NEW: Sleep Mode – for extended battery during long hunts (Sleep Mode available on Alpha 10, 100, 200 & 200i units – not available on Pro 550 Plus or Astro 430)
NEW: Easier Updates – complete your updates on Macs or PC; TT 15X updates on Garmin Express
TT 15X utilize the existing hardware of current generation full size dog device collars but bring important improvements with electrical and software updates.
TT 15X collars are for Tracking & Training – Same great usable range performance – up to 9 miles
Compatible with current Astro 430 (tracking only), Pro 550 Plus and Alpha family handhelds (tracking & training available)
STRONG CONNECTION. STRONG BOND.
The Garmin Alpha 200 Handheld is designed to help make tracking and training simple, accessible and fast.
Track and train your pack while they're out in the field.
Keep inactive dogs in the system for easier setup and management.
Navigate every hunt with the best in Garmin mapping and sensors.
User-replaceable battery lasts up to 20 hours.
Cartridge Brass Nameplate with Easy to Read 3/32″ Characters
Lines 1-8 have 17 characters maximum including spaces.
Nameplates only use the following characters: 0, 1, 2, 3, 4, 5, 6, 7, 8, 9, A, B, C, D, E, F, G, H, I, J, K, L, M, N, O, P, Q, R, S, T, U, V, W, X, Y, Z, –
Nameplates are made from cartridge brass.
The nameplate measures 2 3/4″ long and 1 1/4″ high.
All nameplates are finished with a black Laquer-Stik fill-in-paint to emphasize the characters.
We customize the tag with any information, provided you use the characters listed above. The most popular information is:
Line 1:  Your Name
Line 2:  Your City & State
Line 3:  Home phone
Line 4:  Cell phone
Lines 5-8: Additional Information
The Garmin Alpha 200 TT 15X Bundle – In the Box
Garmin Alpha 200 Handheld
Alpha 200 handheld with a rechargeable Li-ion battery pack
Belt clip
AC adapter
microUSB cable
See optional Garmin Alpha 200 Leather Holster – Helps keep transmitter secure when afield and maintains ergonomic use.
TT 15X Features
Unit dimensions (WxHxD): 3.5″ x 1.75" x 1.85″ (8.9 x 4.4 x 4.7 cm)
Weight: 7.3 oz (207.0 g) for transmitter and antenna (without collar); 10.0 oz (284.0 g) total weight (with collar)
Battery type: rechargeable lithium-ion pack; user-replaceable
Battery life: Up to 80 hours
Range: 9 miles
Interface: USB
Water rating: 1 ATM (10 meters)
Neck size: Minimum of 9.5" (24 cm) in circumference
High-sensitivity GPS/GLONASS receiver: yes
GPS antenna: top, black
Stimulation/Vibration/Tone: yes
LED beacon lights: yes
Sleep mode: yes
Rescue mode: yes
Frequency mode: MURS
Replaceable collar straps: yes
Collar compatibility: 1" (2.54 cm)
Software updates: Via Garmin Express™ software, available for both Mac® and Windows®
In The Box
TT 15X dog device with rechargeable lithium-ion battery pack
18.5″ standard antenna
22.5″ extended-range antenna
Charging cable
AC adapter
Vehicle power cable
Contact point set (short and long) with wrench
Take dog tracking and training to the next level with the Garmin Alpha 200 TT 15X Bundle.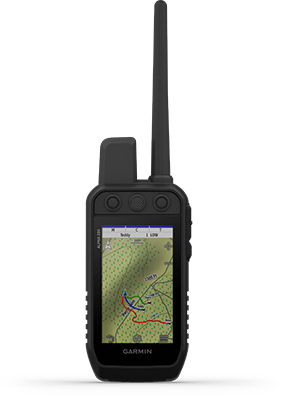 TRACK YOUR PACK
Monitor up to 20 dogs from up to 9 miles (depending on your dog device) with a 2.5-second update rate.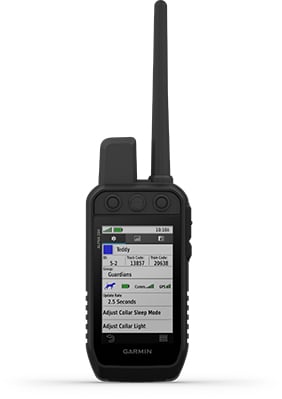 DOG LIST/GROUP MANAGEMENT
Keep inactive dogs in your dog list, and manage active groups so you don't have to add and remove dogs for every hunt.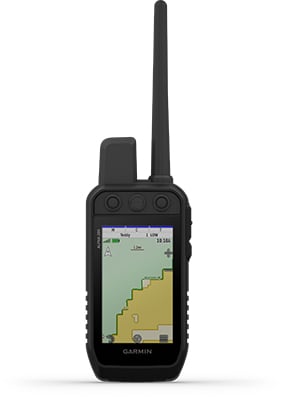 PUBLIC LAND BOUNDARIES
Optional display of public land boundaries on topographical maps helps you know that you're venturing where you're supposed to be.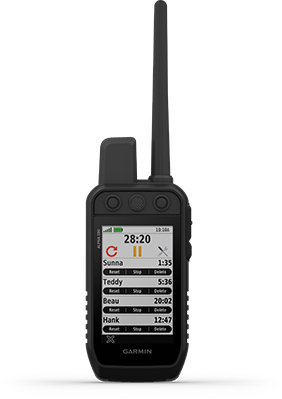 HUNT METRICS
See each dog's daily hunting patterns, distance and speed so you can monitor performance and help prevent overheating. Pair with your TT 15X, TT 15, TT 15 Mini, T 5X, T 5 and T5 Mini tracking and training collars.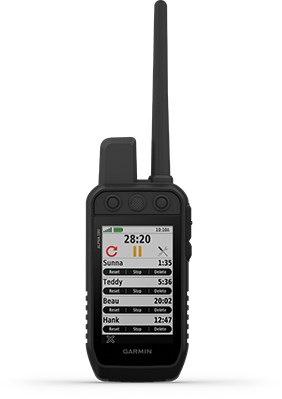 SIX-BUTTON DESIGN
Use dedicated buttons for fast training cues and minor adjustments in the field.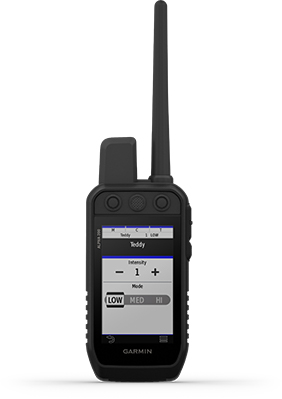 18 LEVELS OF STIMULATION
Momentary and continuous stimulation options let you customize training for each dog.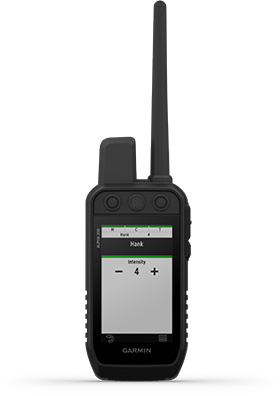 TONE/VIBRATION
Issue different levels of audible tone or vibration commands for quick adjustments to individual dogs.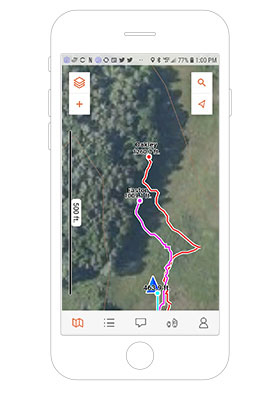 GARMIN EXPLORE™ APP
Pair with the Garmin Explore smart-device app to see real-time dog tracking information, save collections of dog tracks and replay tracks to see exactly what happened during your hunt.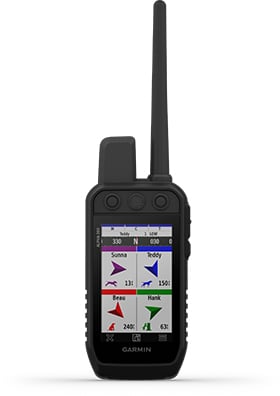 PRO VIEW COMPASS
The pro view compass mode gives you simple, at-a-glance tracking that shows which direction and how far away your dogs are, plus you will see when a dog is "Treed" or "OnPoint."
Navigate your surroundings.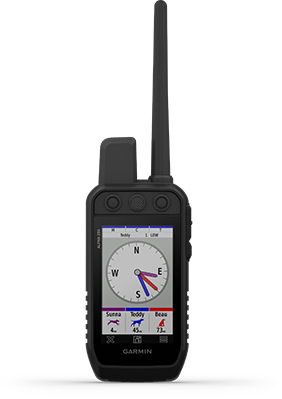 MULTI-GNSS SUPPORT
Access multiple global navigation satellite systems (GPS and Galileo) to track your pack with greater accuracy than GPS alone.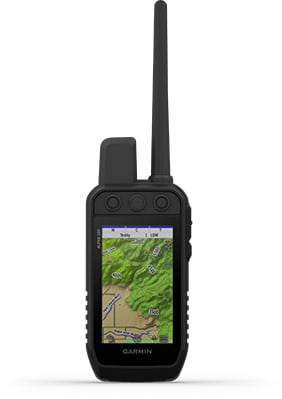 TOPOACTIVE MAPS
Our preloaded TopoActive mapping provides detailed views of terrain contours, topographic elevations, summits, parks, coastlines, rivers, lakes and geographical points.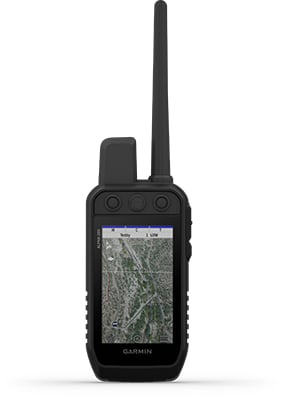 BIRDSEYE DIRECT
Download BirdsEye Satellite Imagery directly to the handheld via Wi-Fi®connectivity for better-than-real-life views of your route, trailheads, clearings and more.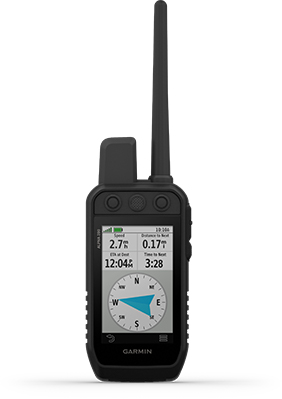 NAVIGATION SENSORS
A barometric altimeter helps you accurately monitor ascent and descent and see short-term trends in air pressure, and the built-in tilt-compensated 3-axis electronic compass keeps your bearing — whether you're moving or not.
SEE IT ALL
The sunlight-readable 3.5" capacitive touchscreen display makes it easy to see and interact with your maps, dog data and more — even while wearing gloves.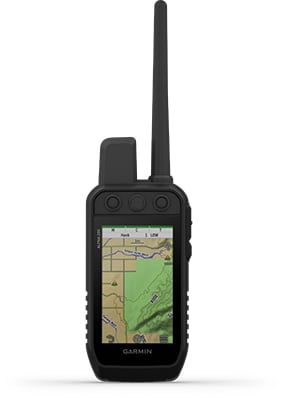 STAY ON THE MOVE
The replaceable battery lasts up to 20 hours, giving you plenty of hunt time with your dogs in the field.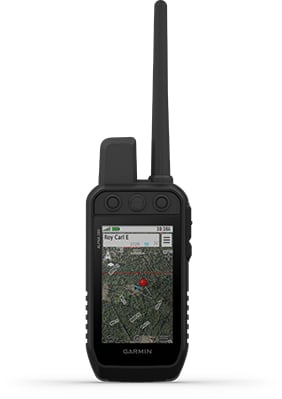 ADDITIONAL MAPPING
The microSD™ card slot allows you to load more mapping options, such as TOPO U.S. 24K and HuntView maps (each sold separately).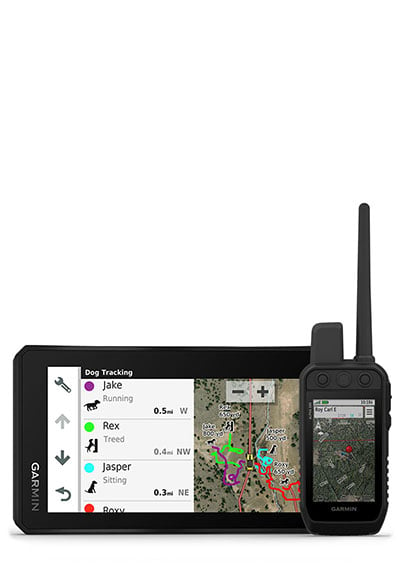 IN-VEHICLE TRACKING
If you're using a vehicle to follow and retrieve your dogs, the rugged Garmin Tread® off-road powersport navigator or Garmin DriveTrack™ 71 car navigator (each sold separately) provide an easy-to-watch "big picture" solution. The moving map display shows dog positions overlaid on TOPO contours or satellite image views – along with navigation cues that help point you to your dog's current location.