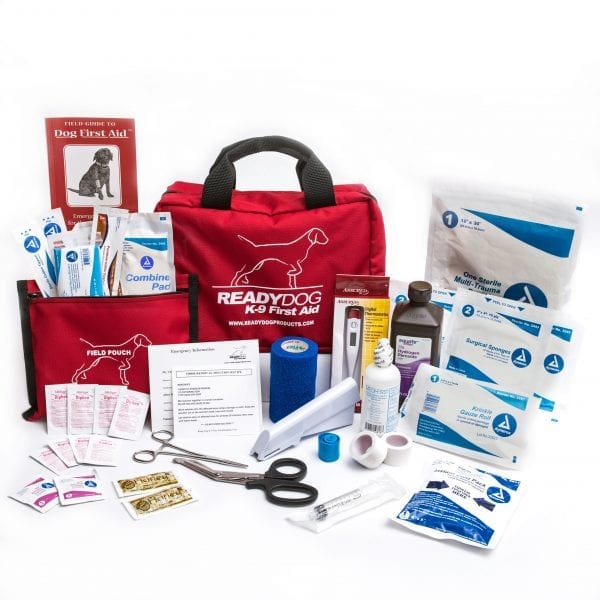 Ready Dog Gun Dog First Aid Kit
Earn $2.80 in Front Range Cash
$139.95
Description
Designed with hunting dogs in mind, the Ready Dog Gun Dog First Aid Kit provides the confidence and tools to handle most canine emergencies. From barbed wire cuts to Porcupine quills, the Ready Dog Gun Dog First Aid Kit has you covered. Although we are priced below our competition, we surpass them in quality and function. Here are just a few features:
Heavy Duty Bag with two see through pouches for easy organization of contents. The third pouch is our removable Field Pouch that allows you to take first aid to the field with you in a hunting vest or pack
A level of gauze sufficient to address minor cuts to serious trauma
Quality tools including SS EMT Shears, SS Forceps, Skin Stapler, and a comprehensive first aid book
Medications include hydrogen peroxide, providone-iodine swabs, aspirin, anti-histamine, and honey.
In The Box
(1) Durable First Aid Bag with removable Field Pouch
(1) Canine First Aid Book
(1) 7 1/4″ Stainless Steel Paramedic Shears
(1) 5 1/2″ Stainless Steel Kelly Forceps
(1) 52 x 84 Mylar Emergency Blanket
(6) Sterile 4 x 4 Gauze Pads
(2) Sterile 5 x 9 ABD Pads
(1) Sterile 10 x 30 Multi-Trauma Dressing
(1) 4.5″ x 4 yd Sterile Bulk Roll Gauze
(1) 4″ x 5 yd Self Adhering Bandage Wrap
(4) Sterile Cotton Tipped Applicators
(1) 1″ Medical Tape
(1) 1″ x 18″ Latex Free Tourniquet
(1) 8 oz Bottle Hydrogen Peroxide
(1) 4 oz Bottle Eye Wash
(1) Instant Cold Pack
(1) Digital Rectal Thermometer
(1) Syringe
(8) 1 Packs Antihistamine Capsule
(2) Packets Honey
(1) Skin Stapler w/ 35 SS Staples
(1) Pair Exam Gloves
(1) Emergency Information C ard
(1) Odor Removal Solution Recipe
(3) Providone-Iodine Swabsticks
(2) Antiseptic Wipes
Also see the Ready Dog Professional Trauma Kit for additional first aid options.
(1) Durable First Aid Bag with removable Field Pouch
(1) Canine First Aid Book
(1) 7 1/4″ Stainless Steel Paramedic Shears
(1) 5 1/2″ Stainless Steel Kelly Forceps
(1) 52 x 84 Mylar Emergency Blanket
(6) Sterile 4 x 4 Gauze Pads
(2) Sterile 5 x 9 ABD Pads
(1) Sterile 10 x 30 Multi-Trauma Dressing
(1) 4.5″ x 4 yd Sterile Bulk Roll Gauze
(1) 4″ x 5 yd Self Adhering Bandage Wrap
(4) Sterile Cotton Tipped Applicators
(1) 1″ Medical Tape
(1) 1″ x 18″ Latex Free Tourniquet
(1) 8 oz Bottle Hydrogen Peroxide
(1) 4 oz Bottle Eye Wash
(1) Instant Cold Pack
(1) Digital Rectal Thermometer
(1) Syringe
(8) 1 Packs Antihistamine Capsule
(2) Packets Honey
(1) Skin Stapler w/ 35 SS Staples
(1) Pair Exam Gloves
(1) Emergency Information C ard
(1) Odor Removal Solution Recipe
(3) Providone-Iodine Swabsticks
(2) Antiseptic Wipes