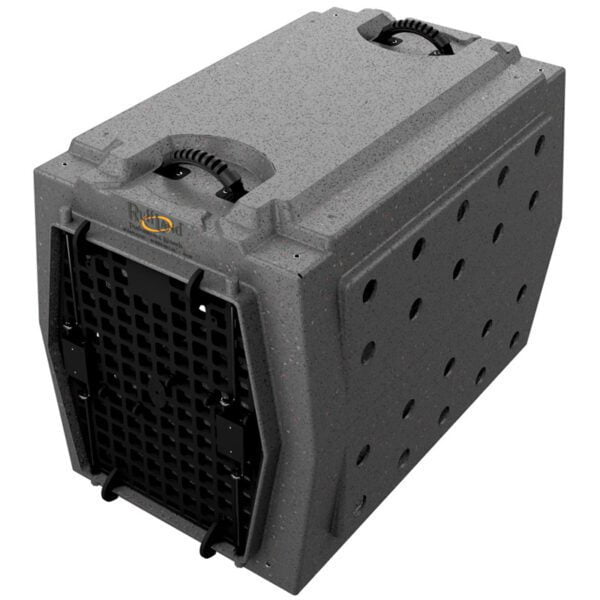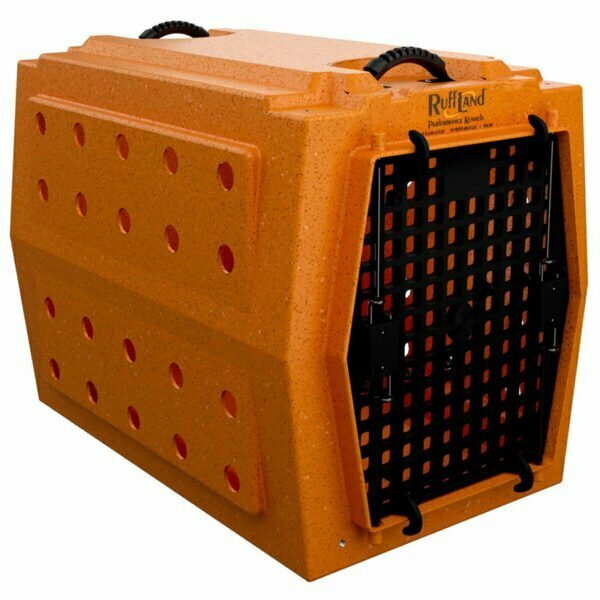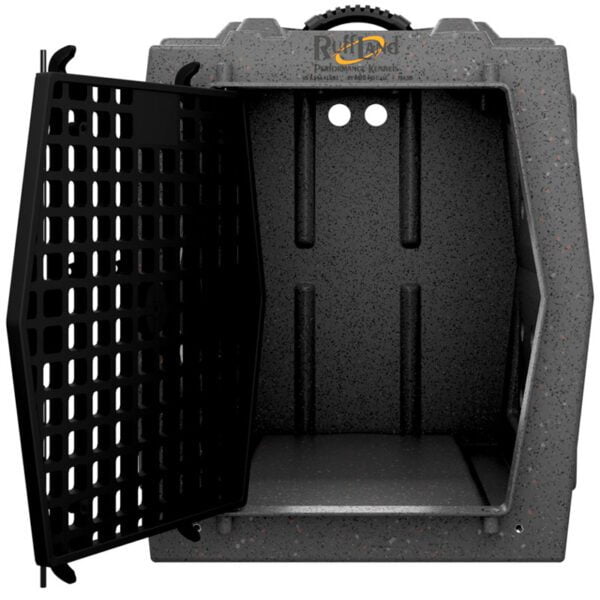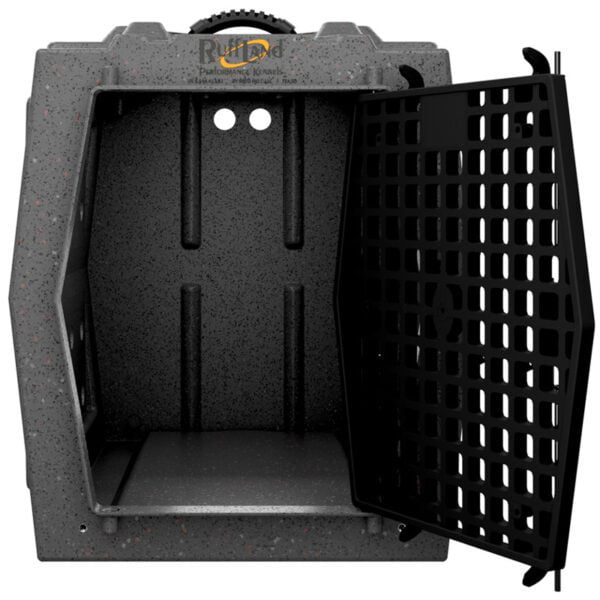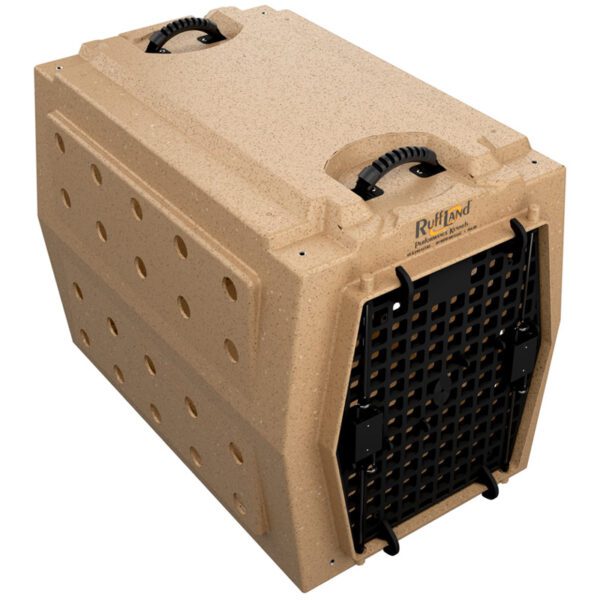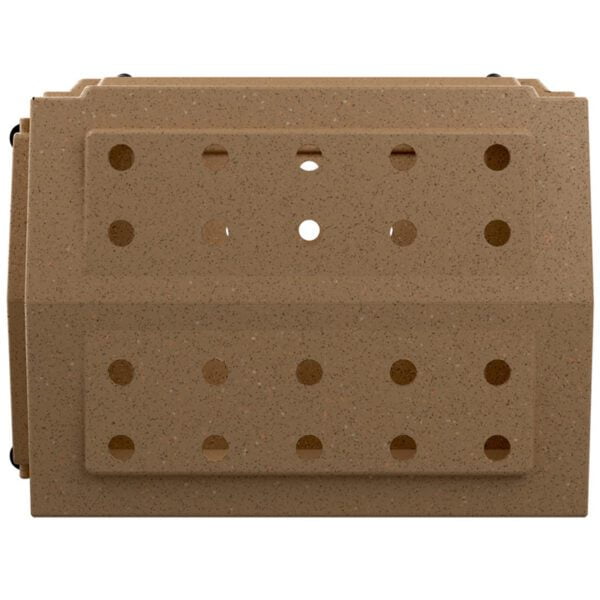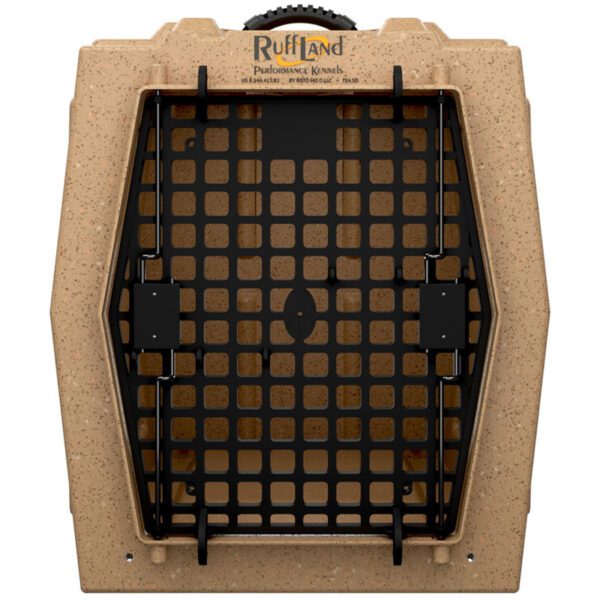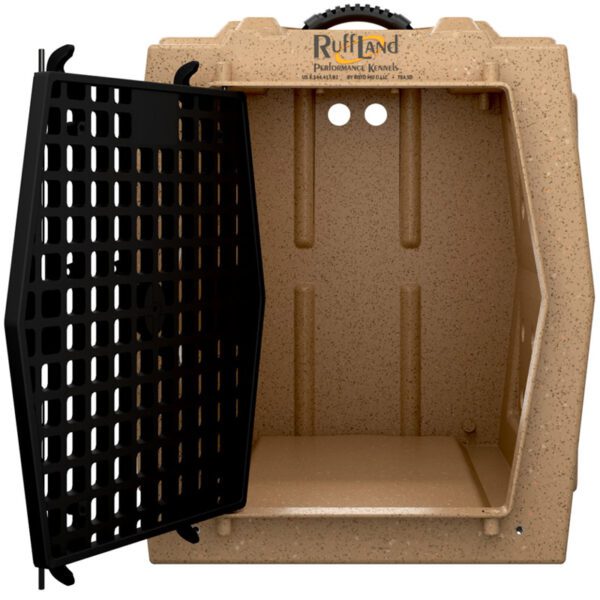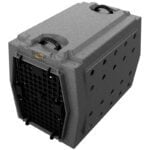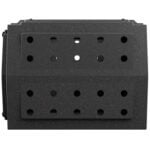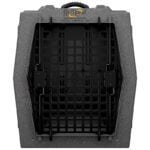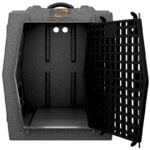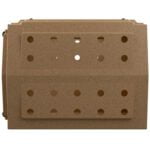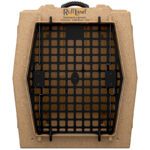 Ruff Land Kennels Intermediate Dog Kennel

$265.99 – $299.99

Proudly Made in the USA
NOTICE:  CUSTOMER SERVICE ANNOUNCEMENT: Due to supply chain shortages and shipping constraints, kennel orders are shipping within 4 weeks of order date.  In order to help expedite the delivery process, your kennel will ship direct to you from the point of manufacture in Tea, South Dakota.  Thank you for your understanding and patience while we work through this..
Description
Reviews (1)
USDA Kennel Requirements and Restrictions
Description
The Ruff Land Kennels Intermediate Dog Kennel was the first dog crate manufactured by RLK. Designed by outdoorsmen and endorsed by celebrities, this intermediate dog crate sets the standard for built-to-last intermediate sized dog crates. Vent hole pattern displayed comes standard (1 3/8″ hole size), with two finger holes in the back. The intermediate dog crate can be stacked and customized with the add-on options.
New Gen II Ruff Land Kennels Intermediate Dog Kennel
Beginning in 2022, we are introducing the newly designed Ruff Land Kennels Gen II. Gen II kennels are made with all new molds enabling some design refinements to the kennels. Most notably, all kennels now include handles that are recessed for stacking and accessorizing. Fit and finish is also much more uniform. We now offer a wider variety of accessories many of which will be specifically designed to fit the various size kennels. Rest assured all Gen II kennels will stack and couple with previous versions. Finally, we are also introducing a new standard color, Millstone!
Tough
When impact testing the Ruff Land Kennel, we dropped it from a height of 12 feet with no noticeable damage, so we kept trying. After four drops the kennel showed only scratches and stains from the concrete and grass. No splits or cracks were evident. The Ruff Land Kennel was fired at with a full choke charge of number 6's from about 15 paces. To our surprise only a handful of pellets penetrated. The rest buried in the material. We were satisfied that it would provide maximum protection from a few errant pellets in a hunting situation. We've received testimonials that our kennels have also been involved in actual car accidents and are happy to report that dog and kennel have survived each and every time.
Ruff Land Kennels Intermediate Dog Kennel Features
New Generation II Design
Heavy Duty PE Plastic for safety
Doors open both directions, hinges both right and left
Metal inserts for attaching multiple kennels together or tying them down
Designed by outfitters and dog trainers
Stackable – Ruff Land Kennels nest easily together, and can be bolted together, up, down, and sideways
One Piece – Easy to clean and durable
The Ruff Land Kennels Intermediate Dog Kennel fits the medium Mud River Dixie Kennel Cover and the medium Mud River Bedford Kennel Cover.
1 Year Warranty
Additional Information
This kennel comes standard with vent holes and door shown for the variation images.
To transport your pet as checked baggage or cargo, you must use an approved shipping kennel, and it must ship in accordance with the U.S. Department of Agriculture (USDA) guidelines. Check out this link for some great information, www.transportation.gov/airconsumer/plane-talk-traveling-animals.
Ruff Land Kennels Intermediate Dog Kennel Dimensions:
EXTERIOR
Length: 30 1/2″
Width: 20″ at widest point
Height: 23 1/4″
INTERIOR
Length: 30 1/8″
Width: 19 1/2″ at widest point
Height: 22″
FLOOR
Length: 28 1/2"
Width: 17 1/2″
Weight: Approx. 20 pounds
Ruff FLEX Technology
The walls, top and floor on Ruff Land™ Kennels also have built-in flexibility which absorbs energy that would otherwise be transferred to your dog. This is where the "stiff", two-walled plastic kennels, which claim to be safer, fail. They may not break, but when your dog hits the side of the kennel, there is no give like there is with a Ruff Land™.
StackRight™ Design
The tops and bottoms of Ruff Land™ kennels all feature form-fit nesting that allows the kennels to fit together, making them stackable.
SureVent™ Tapered Wall Design
The sidewalls on all Ruff Land™ kennels feature a series of vent holes. These vent holes ensure proper air circulation for your dog. Ruff Land™ took this one step further by tapering the side walls so that the vent holes will never get plugged, even if you slide the kennel up against a wall or some other flat sided object.
UpSide™ Raised Floor Interior
The interior floor in a Ruff Land™ kennel is raised so that debris and liquids that fall or spill off to the side are channeled away from your dog. This UpSide™ raised floor design also creates some flex for a built-in cushioning effect for your dog as it rides in your truck.
2-Way Door
They are ambidextrous and can be adjusted to swing either way.
No Bite Grid Pattern Design
Grid pattern stops dogs from chewing/biting kennel door.
Rattle-Less
They will not rattle as much (if you've owned other kennels you know just how annoying this can be).
Warranty Policy
The warranty applies only to Ruff Land Kennels Products purchased from Front Range Gun Dog, an Authorized Ruff Land Kennels Dealer, and is extended only to the original purchaser ("owner") for a period of one year from the purchase date. All warranty claims must be accompanied by the original purchase receipt from our website. If you have lost the receipt we can supply a copy.  Please email sales@frontrangegundog.com to request a copy of your sales receipt.
Ruff Land Kennels warrants all products sold by Front Range Gun Dog to be free of defects in material or workmanship. This warranty is subject to the following limitations in addition to any imposed by virtue of applicable law.
Excluded from coverage under this warranty are the following:
Damage or breakage from wear and tear by your pet, such as chewing on vent holes or door frame
Impact-related damage or breakage, this includes vehicle accidents and collisions
Damage resulting from abuse, misuse or carelessness, including dropping or falling out of vehicle
Intentional damage and/or breakage
Normal customer wear and tear, this includes scratches, slight warping, and edge chipping
Warping from exposure to heat, rain or snow
Damage resulting from improper installation of accessories
Any damage caused from anything other than defects in material or workmanship
Damage from the use of solvents, adhesives, or cleaning solutions
Alterations or modifications done by customer
If determined to be a warranty related issue, Ruff Land Kennels will pay for the product return to replace, or repair and send back to customer at no charge.  Front Range Gun Dog will work the our customer to facilitate all warranty related issues.
Requirements and Restrictions
To transport your pet as checked baggage or cargo, you must use an approved shipping kennel, and it must ship in accordance with the U.S. Department of Agriculture (USDA) guidelines. Check out this link for some great information, www.transportation.gov/airconsumer/plane-talk-traveling-animals.
The kennel must provide enough room for your pet to stand and sit up without the head touching the top of the container and to turn around and lie down in a natural position. All kennels must be capable of loading upright in the aircraft bin as required by the Animal Welfare Act and the International Air Transport Association Live Animal Regulations.
In addition, USDA rules state that the kennel must:
Be constructed of rigid plastic, wood, metal or material of comparable strength with solid roofs; no cardboard kennels
Have wheels that can be removed or made inoperable (applicable to wheeled kennels only)
Have ventilation openings on three sides, in addition to the door opening
Have functional handles on the kennel's exterior to prevent tilting and any direct contact with the animals
Close securely, but not lock, to allow personnel to open it in case of emergency
Display labels with the words "Live Animal" in 1-inch letters on the crate's top and on at least one side
Display upright arrow labels indicating kennel's correct position; airlines may be able to provide these labels
Contain bedding, shredded paper or towels to absorb accidents
Contain two dishes (one for food and one for water) attached to the inside of the kennel door – they must be easily accessible to airline agents without opening the kennel door
Display feeding instructions and food, if applicable – these instructions should be affixed to the top of the kennel, along with shipper and consignee information
Prohibited/Restricted Kennels:
Kennels made entirely of welded mesh, wire mesh, wicker, cardboard or collapsible materials are strictly prohibited
Kennels with opening doors on top
Kennels with plastic front doors and/or plastic side latches that secure the top and bottom together without hardware, such as metal nuts/bolts
Please be advised that each airline differs slightly in what they will and will not allow. Our doors, while made of composite material are secured with metal rods. Additionally a metal liner can be purchased as an accessory and side latch rod kits are available for securing the door further. You would also need to include a handle kit for the intermediate, large and XL sizes. Call with any further questions and we will do what we can to get you answers!